Equipment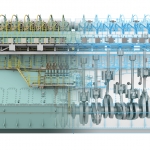 (Posted on 16/07/20)
Engine designer WinGD (Winterthur Gas & Diesel) has prioritised collaboration and transparency in its new cylinder lubrication guide, to ensure that selecting the right oil is easier than ever. For the first time, the new documentation provides ship operators with consolidated, at-a-glance information highlighting the specific...
(Posted on 16/07/20)
Global learning and operational technology innovator, Ocean Technologies Group, has further bolstered its leadership team with the addition of Caspar Atkinson as Chief Product Officer.Caspar is an accomplished product leader with over 20 years' experience in creating digital products and delivering technology solutions, successfully...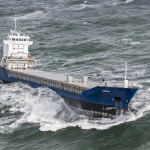 (Posted on 10/07/20)
On its fleet, SCG offers its personnel a Crew Welfare Zone with free internet within the 12-mile (4G) zone. To realise this, SCG wanted a plug&play, cost-efficient system that is always operational and doesn't interfere with the crew's activities.To make this happen, a seamless transition between 4G and the Inmarsat...
(Posted on 10/07/20)
In the second quarter of 2020, Piattaforma Logistica Trieste S.r.L. (PLT) ordered an eco-efficient Konecranes Gottwald Mobile Harbor Crane for a new terminal in the Port of Trieste in north-eastern Italy. After delivery in September and commissioning in October, the crane will handle general cargo, containers and heavy project cargo...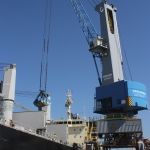 (Posted on 06/07/20)
In the second quarter of 2020, Port of South Louisiana ordered two Konecranes Gottwald Model 6 Portal Harbour Cranes for its public facility, Globalplex Intermodal Terminal (Globalplex). With commissioning planned for September 2021, the cranes will increase capacity for bulk materials and add flexibility for future handling of...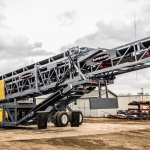 (Posted on 06/07/20)
Superior Industries, Inc., a US-based manufacturer and global supplier of bulk material processing and handling systems, has introduced a standard new set of TeleStacker Conveyor models with onboard power. These self-contained, radial, telescoping conveyors are equipped with a 96kW Cat 4.4 Tier 4 Final engine. The most popular applications...