Equipment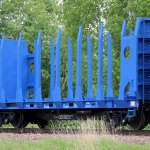 (Posted on 18/09/19)
Research and production corporation United Wagon Company, Russia's largest manufacturer of freight cars , and the railway transportation company VTG Rail Russia, member of the VTG AG Group, Europe's leading lessor of freight rolling stock, have signed an contract for the supply of 150 flat cars fitted with bogies with...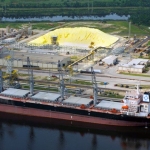 (Posted on 10/09/19)
Bruks Siwertell has secured repeat business from US company Martin Operating Partnership, in Beaumont, Texas, in the form of a new ship loader capable of safely and reliably handling sulfur prill at high capacities."There can be no greater endorsement than repeat business," says Ken Upchurch, Vice President Sales and...
(Posted on 10/09/19)
The InvaSave mobile ballast water treatment system from Damen Green Solutions has demonstrated beyond doubt its capability to help ships meet the incoming D2 standard. All vessels will be required to comply with the standard which came into force on September 8th this year.This summer the InvaSave crew teamed up with local service...
(Posted on 10/09/19)
Safety and survival partner Survitec has introduced a completely new lifejacket designed to provide helicopter transfer passengers with a level of safety, comfort and in-water performance not currently available in the energy aviation sector.Unveiled today at the SPE Offshore Europe exhibition, in Aberdeen, Scotland, the Halo passenger...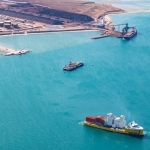 (Posted on 03/09/19)
thyssenkrupp Industrial Solutions is developing and building a new materials handlingsystem for one of the most remote and challenging locations in the world: an iron ore port innorthern Canada. Recently, the first plants were shipped completely pre-assembled fromBremerhaven, Germany, to Baffin Island.Baffinland Iron Ore Mines Corporation...
(Posted on 03/09/19)
MacGregor, part of Cargotec, secured a turnkey contract to deliver four shipsets of weather deck hydraulic operated folding hatch covers for 8,000 dwt coal carriers. The turnkey project includes design and key components, fabrication and transportation of hatch covers as well as commissioning of the complete system at Cochin shipyard...