Equipment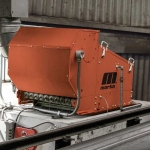 (Posted on 16/04/18)
In a move to help all silica dust-producing operations comply with impending rule changes, two pioneers in industrial dust control are reminding customers that the Occupational Safety and Health Administration (OSHA) respirable crystalline silica (RCS) dust emissions Final Rule [OSHA §1910.1000 Respirable crystalline silica...
(Posted on 16/04/18)
The Liebherr Group has announced that in 2017 it achieved the highest turnover in the Group's history, with total sales of € 9,845 million. Compared to the previous year, the family-run company increased its revenue by 9.3%. The Group is expecting further sales growth for 2018. In the construction machinery and mining...
(Posted on 16/04/18)
Generally awarded to consumer products on the cutting edge of innovative design, one of the Red Dot Awards this year has gone to an unusual candidate: the nemaX grab from Nemag. Previous product design winners have included the iPhone, the BMW 5 series and the GoPro Hero. This is the first time in history that an industrial grab...
(Posted on 16/04/18)
The Port Equipment Manufacturers Association (PEMA) continues to expand its membership base, welcoming five new members in the first quarter of 2018.PEMA has seen sustained growth with five new members in the first quarter of the year, bringing the membership total to 108 companies, representing an increasingly broad cross...
(Posted on 30/03/18)
What do cola, jelly beans, and yogurt all have in common? They all contain sugar. This fuel for the human body is transported by ContiTech conveyor belts, just like raw materials such as coal, iron ore, or wood. The main sources for sugar are generally sugar cane from Latin America or sugar beet from the U.S.A. or Europe. On site...
(Posted on 30/03/18)
Coldharbour Marine, a manufacturer of ballast water treatment systems based on unique inert gas technology, has engaged Japanese classification society ClassNK to assist in the process of obtaining Japanese type approval from the Ministry of Land, Infrastructure, Transport and Tourism. The approval is a requirement for all foreign...