ADNOC selects VIKING for safety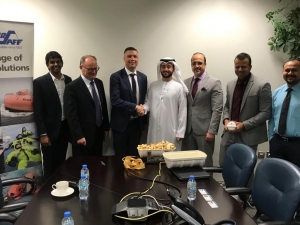 (Posted on 08/05/19)
Abu Dhabi-based shipping company, ADNOC Logistics & Services has entrusted its entire safety equipment servicing to VIKING with a five-year contract.
Maritime safety equipment manufacturer and global service provider VIKING Life-Saving Equipment A/S (VIKING) has won a tender to work with world-class shipping company ADNOC Logistics & Services. The five-year VIKING Shipowner Agreement contract extends to a fleet of more than 120 vessels and encompasses a complete service offering including marine fire and lifeboat servicing, as well as liferaft exchange.
Playing a pivotal role in the development of the United Arab Emirates' energy industries, ADNOC Logistics & Services supplies all companies under the ADNOC Group and its international customers with reliable shipping, offshore logistics and onshore services. As well as operating a fleet of Oil Tankers and LNG Carriers, the company operates seven Bulk Carriers.
The company has 40 years of experience under its belt and commands logistics infrastructure spanning over 1.4 million square meters. Its large fleet of vessels is used for ocean-going shipping activities, offshore support and port operation, delivering hydrocarbon products from Abu Dhabi to customers all over the world.
"Upholding a clean Health, Safety and Environment (HSE) record and maintaining asset integrity are some of the company's top priorities," commented VIKING's Country Director for the Middle East, India & Sri Lanka, Kevin Momme. "And VIKING's comprehensive servicing offering is a sure-fire way to help ADNOC Logistics & Services achieve and maintain those priorities."
Moving goods in sometimes treacherous waters all over the world presents numerous maritime safety challenges. Managing these challenges and complying with mandatory maritime safety regulations such as SOLAS and the International Ship and Port Facility Security (ISPS) code can be a tough task. Backed by decades in maritime safety equipment and servicing, VIKING's complete service offering makes the task as simple as possible. The offering is supported by a 24/7 service network that provides liferaft servicing from approx. 300 ports worldwide.
Working with VIKING will make it easier for ADNOC Logistics & Services to manage its equipment servicing obligations, as the contract covers all of its safety equipment and servicing needs. ADNOC will, for instance, be taking advantage of VIKING's liferaft exchange agreement, which streamlines servicing of its VIKING S30 liferafts. Instead of running the risk of port delays, vessels can easily exchange their liferafts for ready-serviced units at one of more than 120 ports worldwide. The total coverage agreement is a no-fuss solution for customers wanting to have fully-compliant equipment on board around the clock. And it can gradually be expanded to cover new safety equipment and servicing needs too as vessels and safety products are simply added as needed
"This is a major win for VIKING and it's further proof that leading companies have trust in our capabilities, products and services," adds Kevin Momme.
VIKING Life-Saving Equipment is a global market leader in maritime and offshore safety. Headquartered in Denmark, the corporation manufactures, supplies and services everything from chute and slide-based evacuation systems to liferafts, lifejackets, immersion suits, firefighting equipment, aviation safety gear, lifeboats, hooks, davits and more.
VIKING brings its customers all the elements needed to simplify safety, including the world's broadest range of safety products and a highly efficient, worldwide servicing network. And it stands out in the ability to offer complete safety compliance solutions – all certified in accordance with the latest IMO, SOLAS, EU and USCG requirements. Known as VIKING Shipowner and Offshore Safety Agreements, these uniquely customizable solutions incorporate safety products, global servicing, exchange, single-source management, and financing in a variety of fixed price structures.
Latest News
(Posted on 27/09/23)
EMS-Tech Inc., a global leader in engineering and innovation within the dry bulk material handling industry... Read more
(Posted on 26/09/23)
MacGregor, part of Cargotec, has received a significant, more than EUR 25 million order for general... Read more
(Posted on 26/09/23)
HEMEXPO, Hellenic Marine Equipment Manufacturers and Exporters, a leading suppliers and exporters association... Read more
(Posted on 19/09/23)
ClassNK has conducted third-party certification for the CO2 emissions reductions of "JGreeX&trade... Read more
(Posted on 12/09/23)
Charterers can save hundreds of thousands of dollars of unnecessary demurrage costs by drilling down... Read more
(Posted on 08/09/23)
Nippon Kaiji Kyokai (ClassNK) has joined the major classification societies to amend its rules relating... Read more
(Posted on 08/09/23)
On behalf of SLPLUS Holding and based on their trust in Feyz Group's operational capabilities,... Read more
(Posted on 08/09/23)
Leading corporate wellbeing provider OneCare Solutions (OCS) has launched the OneCare Solutions Mobile... Read more
(Posted on 04/09/23)
With CCS-Ready scrubbers now being sold at pace, Wärtsilä's studies across a range of... Read more
(Posted on 04/09/23)
German Ship Repair Jamaica Limited (GSRJ), a private joint venture of German, Turkish and Jamaican investors... Read more