Phoenix launches versatile Wayfinder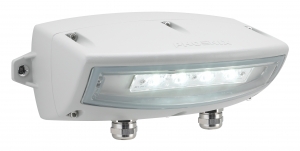 (Posted on 14/05/19)
Phoenix has introduced the latest addition to its durable LED product line – the Wayfinder. Built with custom optics specifically for ports, the Wayfinder has the highest lumen/watt output in its class, delivering 1,100 lumens to accessways, walkways, stairways, platforms and other small areas. This powerful yet compact light projects a wide beam angle, allowing fewer fixtures to cover more surface area for effective and efficient lighting.
The Wayfinder includes a built-in emergency battery backup (EMB) option to keep the fixture illuminated during a power interruption. Operators can rely on the Wayfinder's EMB to keep accessways lit for a minimum of 120 minutes during outages. As with all Phoenix LED products, the Wayfinder increases efficiency, eliminates untimely maintenance, supports green initiatives and is built with its signature rugged construction. When safety is the top priority, having a reliable light source is critical. To learn more about the Wayfinder, please visit the product page or download the spec sheet here.
Originally founded in 1892, Phoenix has evolved alongside the city of Milwaukee and is still proud to call it home. Over 126 years later, Phoenix Lighting continues to be a leading manufacturer of high quality, durable lighting solutions built to withstand even the harshest of conditions.
Latest News
(Posted on 27/09/23)
EMS-Tech Inc., a global leader in engineering and innovation within the dry bulk material handling industry... Read more
(Posted on 26/09/23)
MacGregor, part of Cargotec, has received a significant, more than EUR 25 million order for general... Read more
(Posted on 26/09/23)
HEMEXPO, Hellenic Marine Equipment Manufacturers and Exporters, a leading suppliers and exporters association... Read more
(Posted on 19/09/23)
ClassNK has conducted third-party certification for the CO2 emissions reductions of "JGreeX&trade... Read more
(Posted on 12/09/23)
Charterers can save hundreds of thousands of dollars of unnecessary demurrage costs by drilling down... Read more
(Posted on 08/09/23)
Nippon Kaiji Kyokai (ClassNK) has joined the major classification societies to amend its rules relating... Read more
(Posted on 08/09/23)
On behalf of SLPLUS Holding and based on their trust in Feyz Group's operational capabilities,... Read more
(Posted on 08/09/23)
Leading corporate wellbeing provider OneCare Solutions (OCS) has launched the OneCare Solutions Mobile... Read more
(Posted on 04/09/23)
With CCS-Ready scrubbers now being sold at pace, Wärtsilä's studies across a range of... Read more
(Posted on 04/09/23)
German Ship Repair Jamaica Limited (GSRJ), a private joint venture of German, Turkish and Jamaican investors... Read more