Equipment
(Posted on 16/12/19)
With the acquisition of Drew Marine's Fire Safety and Rescue (FSR) division, VIKING increases its global volume, reach and technical competencies for marine firefighting equipment services (MFS).VIKING Life-Saving Equipment - the global safety solutions and service provider, announced its acquisition of Drew Marine's...
(Posted on 16/12/19)
The total number of vessels applying Nippon Paint Marine hull coatings at drydock increased by 9% this year compared to the company's 2018 figures.In the 12-month period to June 2019, the marine coatings supplier, a division of Japan's Nippon Paint, registered increased applications across all ship sectors, with growth...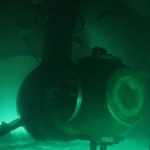 (Posted on 03/12/19)
A Hydrex team removed a bow thruster from a 229-meter bulk carrier. Two weeks later the overhauled unit was reinstalled. Both operations were done during stops in Algeciras, Spain and had to be carried out within the tight schedule available to the charterer.The vessel could then shift and start cargo operations while Hydrex performed...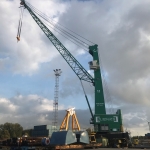 (Posted on 22/11/19)
Konecranes has supplied two eco-efficient Konecranes Gottwald Mobile Harbor Cranes to Belgian logistics and transportation firm Zuidnatie Breakbulk. The order included a Model 3 and a Model 7 crane.Founded in 1870, Zuidnatie has a long history serving their customers in Antwerp, the second-largest port in Europe and one of the top...
(Posted on 22/11/19)
Lindø port of Odense is Denmarks largest port by area. It compromises 6.4 millionsquare metres and will be further expanded within 2020 for ongoing developments. Theport is located strategically between the North Sea and the Baltic Sea and offers worldclass facilities to the offshore wind industry. In order to be geared for...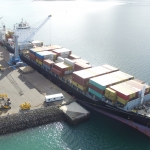 (Posted on 18/11/19)
In the third quarter of this year, Northport Limited ordered an eco-efficient Konecranes Gottwald Model 6 Mobile Harbour Crane for their deep-water facility at Marsden Point, on the north island of New Zealand. The crane will be delivered and commissioned in the first quarter of 2020. It will expand the facility's container...