Bedeschi success in Oman and USA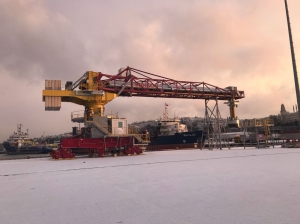 (Posted on 17/02/21)
The client Al Sarh Trading Co. in Qatar has commissioned Bedeschi to supply handling equipment to operate in Oman - Khatam Malaha. The equipment includes n. 3 conveyor belts with a total length of 4,3 Km and a capacity of 2.000t/h to handle Gabbro and other materials. The last section of the conveyor is engineered for offshore installation, with self-holding galleries structure installed above pylons. The shiploader luffing and slewing type, with capacity of 2.000T/h designed to load vessels up to 55.000 DWT is located on approximately 2km of open sea, . It is Installed on an off-shore platform and designed to work on both sides of platform with a Boom length 30mt.
For Alabama State Docks – Richmond Eng., Bedeschi will design and supply four apron feeders for coal with a capacity of 1500 t/h each, part of a new system of rail cars (wagon tippler) unloading system. The supply will integrate the pre-existing equipment.
Bedeschi SpA was established in 1908 and is today one of the oldest European companies specialising in bulk handling. The fourth generation of the Bedeschi family is currently leading the Group
For many years Bedeschi has been entrusted by many prestigious clients worldwide to help them overcome various marine infrastructural bottlenecks, both onshore and offshore. These clients have valued the innovativeness and capability of Bedeschi, to understand their exact requirements and to design & implement solutions, which are suited specifically to their projects' requirements.
Latest News
(Posted on 27/09/23)
EMS-Tech Inc., a global leader in engineering and innovation within the dry bulk material handling industry... Read more
(Posted on 26/09/23)
MacGregor, part of Cargotec, has received a significant, more than EUR 25 million order for general... Read more
(Posted on 26/09/23)
HEMEXPO, Hellenic Marine Equipment Manufacturers and Exporters, a leading suppliers and exporters association... Read more
(Posted on 19/09/23)
ClassNK has conducted third-party certification for the CO2 emissions reductions of "JGreeX&trade... Read more
(Posted on 12/09/23)
Charterers can save hundreds of thousands of dollars of unnecessary demurrage costs by drilling down... Read more
(Posted on 08/09/23)
Nippon Kaiji Kyokai (ClassNK) has joined the major classification societies to amend its rules relating... Read more
(Posted on 08/09/23)
On behalf of SLPLUS Holding and based on their trust in Feyz Group's operational capabilities,... Read more
(Posted on 08/09/23)
Leading corporate wellbeing provider OneCare Solutions (OCS) has launched the OneCare Solutions Mobile... Read more
(Posted on 04/09/23)
With CCS-Ready scrubbers now being sold at pace, Wärtsilä's studies across a range of... Read more
(Posted on 04/09/23)
German Ship Repair Jamaica Limited (GSRJ), a private joint venture of German, Turkish and Jamaican investors... Read more