Equipment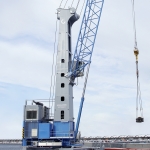 (Posted on 27/06/18)
Warrenpoint Port has ordered a Konecranes Gottwald Model 3 Mobile Harbour Crane. The order is part of the Northern-Irish port's 25-year growth plan.The new crane will from September 2018 on contribute to a significant improvement of efficiency and increase capacity of Warrenpoint's handling activities. It forms part...
(Posted on 27/06/18)
A damaged main engine cylinder casing has now been returned to service in Bulgaria, after a repair operation lasting just seven days, saving almost eight months of off-hire time.The shipowners, faced with an eight-month replacement estimate for the engine, called in local Metalock engineers who worked to perform a full repair. The...
(Posted on 27/06/18)
ABB, the pioneering technology leader, and Ballard Power Systems, the leading global provider of innovative clean energy fuel cell solutions, have signed a Memorandum of Understanding (MoU) on developing the next-generation fuel cell power system for sustainable marine e-mobility.The fuel cell power system, to be jointly designed...
(Posted on 27/06/18)
Piraeus-based engineering and manufacturing firm Maritech has signed a sales and distribution agreement with French water microbiology company aqua-tools to meet 'significant interest' in onboard ballast water testing from Greek shipowners."Greek shipowners are looking at the use of indicative-based monitoring...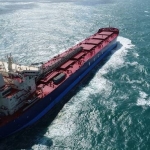 (Posted on 21/06/18)
The American Shipowner Vulica Shipping has chosen WE Tech Solutions to provide the energy efficiency solution to its two 68000dwt Self-Unloader Bulk Carriers. The vessels were constructed by Jiangsu Hantong Shipyard, China and classed by LIoyd's Register. The first vessel was named in M/V Ireland and was delivered to Vulica...
(Posted on 21/06/18)
Thyssenkrupp has opened a new service centre for the mining industry in Parauapebas, Brazil, marking a further step in the expansion of the Industrial Solutions business area's global network. Covering an area of around 11,500 square meters, the service center provides a full range of on-site services, maintenance and repair...