Bedeshi's new project for ORANO Group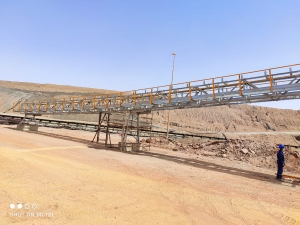 (Posted on 18/11/21)
As part of the project to extend a PAD for heap leaching in Arlit on behalf of the company SOMAIR (Niger), a subsidiary of the ORANO group (France), Bedeschi is responsible for carrying out engineering work and the mechanical and electrical supply of all transport and stockpiling equipment.
The challenge of this project was to provide machinery which is compatible with the existing equipment.
The list of provided equipment is:
Fixed tripper car for the connection between the existing overland conveyor and the new BEDESCHI overland conveyor having a length of 980 meters and a width of 800 mm.
An overland conveyor designed to load a mobile tripper car on wheels.
A mobile bridge conveyor on pneumatic wheels for the connection between the existing mobile tripper car and the 15 other existing mobile link conveyors.
The entire electrical part (MV / LV transformation, cables, cable ducts)
Bedeschi also provides the technical assistance for the assembly and commissioning phase.
Bedeschi SpA was established in 1908 and is today one of the oldest European companies specialising in bulk handling. The fourth generation of the Bedeschi family is currently leading the Group, so actual design, engineering and manufacturing with a first class technical assistance are the result of more than 100 years of experience for Customers success.
Latest News
(Posted on 03/12/23)
Ship design, particularly the design of bulk carriers, presents particular challenges when it comes... Read more
(Posted on 26/11/23)
VIKING Life-Saving Equipment, a global leader in maritime safety solutions, is launching an innovative... Read more
(Posted on 26/11/23)
Damen's client Gerdes Green has received a subsidy from the German Government for the investment... Read more
(Posted on 17/11/23)
A first of its kind training course for the Middle East has been held to teach mariners about the basic... Read more
(Posted on 13/11/23)
Wärtsilä ANCS, part of technology group Wärtsilä, has delivered to Seaspan, a marine... Read more
(Posted on 31/10/23)
The flag raising ceremony for three new ASD Tugs has taken place in Gdansk, Poland. In the presence... Read more
(Posted on 26/10/23)
A new immersive crane simulator that can recreate high-risk scenarios without putting drivers or other... Read more
(Posted on 23/10/23)
Vesto Ropes, a global leader in innovative steel wire-rope solutions, has announced a strategic partnership... Read more
(Posted on 23/10/23)
Bedeschi S.p.a. has been awarded a contract for the design and supply of a new longitudinal storage... Read more
(Posted on 18/10/23)
Rhenus Maritime Services (RMS) is adding a new coastal vessel to its fleet in the shape of the RMS Ruhrort... Read more