Equipment
(Posted on 10/07/20)
In the second quarter of 2020, Piattaforma Logistica Trieste S.r.L. (PLT) ordered an eco-efficient Konecranes Gottwald Mobile Harbor Crane for a new terminal in the Port of Trieste in north-eastern Italy. After delivery in September and commissioning in October, the crane will handle general cargo, containers and heavy project cargo...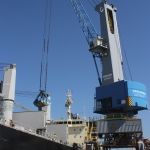 (Posted on 06/07/20)
In the second quarter of 2020, Port of South Louisiana ordered two Konecranes Gottwald Model 6 Portal Harbour Cranes for its public facility, Globalplex Intermodal Terminal (Globalplex). With commissioning planned for September 2021, the cranes will increase capacity for bulk materials and add flexibility for future handling of...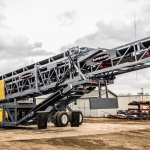 (Posted on 06/07/20)
Superior Industries, Inc., a US-based manufacturer and global supplier of bulk material processing and handling systems, has introduced a standard new set of TeleStacker Conveyor models with onboard power. These self-contained, radial, telescoping conveyors are equipped with a 96kW Cat 4.4 Tier 4 Final engine. The most popular applications...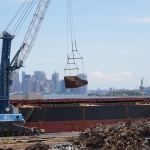 (Posted on 06/07/20)
At New York Harbour, NY, Sims Metal Management uses a Liebherr mobile harbourcrane type LHM 600 to load scrap and unload salt. The crane is placed on a floatingbarge and can be moved to another terminal of the port if required. With a maximumlifting capacity of 75 tonnes in 4-rope grab operation, the crane is the strongestfloating...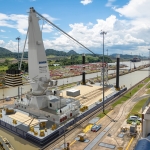 (Posted on 06/07/20)
Damen Shipyards Group has successfully concluded keel laying for the Crane Barge 7532 that will be delivered in Panama, following award of tender in August last year. The barge is being built at Damen Yichang Shipyard in Hubei Province, China. The yard is almost back to full capacity following the recent coronavirus outbreak. Conscious...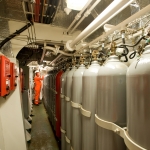 (Posted on 30/06/20)
VIKING Life-Saving Equipment has reported a surge in demand for its one-stop shop Shipowner Agreement concept, following the integration of the Drew Marine Fire Safety and Rescue (FSR) division into its maritime safety solutions business.VIKING Life-Saving Equipment is a global market leader in maritime and offshore safety. Headquartered...