Equipment
(Posted on 27/06/18)
ABB, the pioneering technology leader, and Ballard Power Systems, the leading global provider of innovative clean energy fuel cell solutions, have signed a Memorandum of Understanding (MoU) on developing the next-generation fuel cell power system for sustainable marine e-mobility.The fuel cell power system, to be jointly designed...
(Posted on 27/06/18)
Piraeus-based engineering and manufacturing firm Maritech has signed a sales and distribution agreement with French water microbiology company aqua-tools to meet 'significant interest' in onboard ballast water testing from Greek shipowners."Greek shipowners are looking at the use of indicative-based monitoring...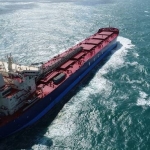 (Posted on 21/06/18)
The American Shipowner Vulica Shipping has chosen WE Tech Solutions to provide the energy efficiency solution to its two 68000dwt Self-Unloader Bulk Carriers. The vessels were constructed by Jiangsu Hantong Shipyard, China and classed by LIoyd's Register. The first vessel was named in M/V Ireland and was delivered to Vulica...
(Posted on 21/06/18)
Thyssenkrupp has opened a new service centre for the mining industry in Parauapebas, Brazil, marking a further step in the expansion of the Industrial Solutions business area's global network. Covering an area of around 11,500 square meters, the service center provides a full range of on-site services, maintenance and repair...
(Posted on 21/06/18)
Sputtering Components Inc. (SCI) will become a new member of the Bühler Group. SCI is a US provider of components and subassemblies for large-area vacuum coating systems. Post acquisition, Sputtering Components Inc. – Member of the Bühler Group, will operate as an autonomous unit of the vacuum coating business of...
(Posted on 21/06/18)
EvoQuip launched the Colt 1000 scalping screen—at the 2018 Hillhead Exhibition. Building upon the success of the Colt 600 and Colt 800, the COLT 1000 is the largest screen in the portfolio and capable of processing up to 360t/hr, depending on application.The Colt 1000 has been on test with Rapid Aggregates in the UK. Commenting...