Hydrex's grade A approval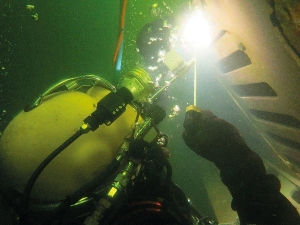 (Posted on 08/01/20)
Hydrex has received the approval to carry out classification certified grade A wet welding. To guarantee the required high standard of these underwater welds, NDT tests were performed by ABS surveyors before the certificate was awarded.
The certificate was given to carry out grade A groove welding underwater. Most companies with a wet welding certificate can only carry out fillet welds and this often only to grade B or C. Cavitation or corrosion damage on rudders, clad welding, rope guard repairs, mewis duct repairs, … can now be done with permanent welding.
With a class B weld an inspection of the weld is required every three months. With class A welding the deadline for an inspection is much longer. This is decided by the attending surveyor on a case by case basis.
Any required inspection will be for the underlying problem causing the damage and not for the welding work. An internal structural problem causing damage will not always be handled after the repair and will need to be followed up. For instance, doubler repairs can never be permanent because the doubler is installed over the damaged plating instead of replacing it (as is the case with insert repairs).
With class A underwater welding only a note is made stating that the affected area needs to be looked at during the next scheduled inspection. This is very important for tankers as a clean class certificate is requested by most charterers.
Even for non-class items like rope guards the certificate is useful because it shows our customers that our diver/welders can carry out high quality underwater welding work. This is very important for offshore units where high quality standards need to be verified before welding operations like doubler repairs can be performed.
Hydrex divers are not suddenly better welders. They always knew how to perform the best underwater welds. Their skills have now been officially recognized.
Latest News
(Posted on 26/11/23)
VIKING Life-Saving Equipment, a global leader in maritime safety solutions, is launching an innovative... Read more
(Posted on 26/11/23)
Damen's client Gerdes Green has received a subsidy from the German Government for the investment... Read more
(Posted on 17/11/23)
A first of its kind training course for the Middle East has been held to teach mariners about the basic... Read more
(Posted on 13/11/23)
Wärtsilä ANCS, part of technology group Wärtsilä, has delivered to Seaspan, a marine... Read more
(Posted on 31/10/23)
The flag raising ceremony for three new ASD Tugs has taken place in Gdansk, Poland. In the presence... Read more
(Posted on 26/10/23)
A new immersive crane simulator that can recreate high-risk scenarios without putting drivers or other... Read more
(Posted on 23/10/23)
Vesto Ropes, a global leader in innovative steel wire-rope solutions, has announced a strategic partnership... Read more
(Posted on 23/10/23)
Bedeschi S.p.a. has been awarded a contract for the design and supply of a new longitudinal storage... Read more
(Posted on 18/10/23)
Rhenus Maritime Services (RMS) is adding a new coastal vessel to its fleet in the shape of the RMS Ruhrort... Read more
(Posted on 18/10/23)
Dualog, a leading maritime software provider, has introduced a major enhancement to the Dualog Drive... Read more