Equipment
(Posted on 27/06/19)
MacGregor, part of Cargotec, announced on 8 February, 2018 that it has entered into an agreement to acquire the marine and offshore businesses of TTS Group ASA. The acquisition is subject to regulatory approvals from the competition authorities in Germany, South Korea and China. MacGregor announced the approval from the German regulator...
(Posted on 27/06/19)
PortX (Rotterdam, Netherlands) and Helm Operations (Victoria, BC, Canada) have announced that they have signed a new strategic partnership agreement to combine PortX's cutting-edge AI-based port dispatching system, OptiPort, with Helm CONNECT, the world's leading harbour dispatching and operations software.Already used...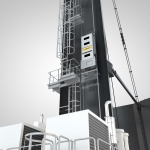 (Posted on 21/06/19)
Liebherr Maritime has presented its new LiUP crane driver elevator for mobile harbour cranes at this year's terminal operator trade fair, TOC Europe in Rotterdam this week. The in-house developed lift has an innovative drive technology and is powered by an electric motor with lithium-ion battery and energy recovery function...
(Posted on 21/06/19)
Following increased market demand for its low-friction hydrogel-containing hull coatings, Nippon Paint Marine (NPM) has now applied the revolutionary technology to its standard range of antifoulings to provide a cost-effective solution for reducing fuel consumption.Hydrogel, already used in the company's LF-Sea 150 HyB and...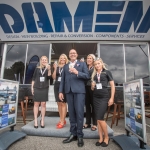 (Posted on 17/06/19)
On 12th of June, Damen Anchor & Chain Factory (AKF) signed a joint partnership agreement with Fendercare. The agreement came about from a mutual understanding that both parties' clients were seeking wider availability of products.Under the agreement, the partnership will build up complementary stock of anchors, chains...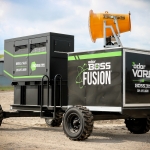 (Posted on 17/06/19)
One of the USA's most experienced global innovators of dust and odour control technology has developed a new, autonomous mobile system that uses no water to reduce site odours from soil remediation, landfills, food processing, composting facilities, wastewater operations and other large-scale applications. Unlike conventional...