Equipment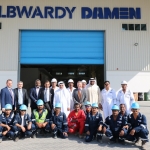 (Posted on 27/11/18)
Albwardy Damen celebrated its tenth anniversary on the 15th of November by officially opening its new ship repair facility at Dubai Maritime City (DMC). Over 100 guests from both the regional maritime industry and the Dubai government joined the Albwardy Damen management team at their new DMC workshop and Dubai HQ for the opening...
(Posted on 27/11/18)
LuminUltra, the Canada-headquartered specialist in microbiological monitoring tools, has completed its acquisition of the Rapid Microbial Solutions (RMS) division of France-based aqua-tools.The acquisition, announced in October, includes the award-winning B-QUA ballast water test kit and aqua-tools' European customer base...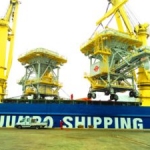 (Posted on 15/11/18)
Bedeschi has been awarded a new contract in Algeria from Zahana Cement Company, a member of GICA Group, for a double roller crusher model RL 850/1500.The contract is on EPC basis and it includes the supply of the new machine, designed for 500t/h of marl, the removal of the existing machine and the installation of the new crusher...
(Posted on 15/11/18)
Yilport Holding aims to create excellent, multipurpose facilities on an international scale. At the beginning of November, two Liebherr mobile harbour cranes type LHM 600 arrived at Yilport's recently acquired terminal in Guatemala. An option on two more LHM 600 underlines the forthcoming strategic partnership between Liebherr...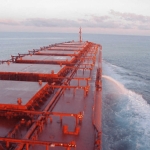 (Posted on 09/11/18)
Sales of the BIO-SEA ballast water treatment system have contributed to an increase in third quarter revenue for France-based BIO-UV Group. The Group reported a Q3 2018 revenue of €3.4m, an increase of 30% on the same period last year."The expanding ballast water market is the main driver underpinning growth, and one...
(Posted on 09/11/18)
MacGregor, a part of Cargotec, has yesterday received a clearance decision from the German Federal Cartel Office (Bundeskartellamt) for the company's acquisition of the marine and offshore businesses of TTS Group ASA, which was announced on 8 February, 2018. The completion of the intended transaction is still subject...