Equipment
(Posted on 21/06/18)
Sputtering Components Inc. (SCI) will become a new member of the Bühler Group. SCI is a US provider of components and subassemblies for large-area vacuum coating systems. Post acquisition, Sputtering Components Inc. – Member of the Bühler Group, will operate as an autonomous unit of the vacuum coating business of...
(Posted on 21/06/18)
EvoQuip launched the Colt 1000 scalping screen—at the 2018 Hillhead Exhibition. Building upon the success of the Colt 600 and Colt 800, the COLT 1000 is the largest screen in the portfolio and capable of processing up to 360t/hr, depending on application.The Colt 1000 has been on test with Rapid Aggregates in the UK. Commenting...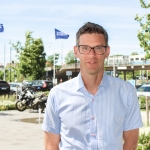 (Posted on 15/06/18)
With the aim of becoming a driving force in sustainable power solutions, Volvo Penta is going full charge into hybrid and all-electric drivelines, offering electrified solutions in both its marine and industrial segments by 2021.The world-leading and global manufacturer of engines and complete power systems for boats, vessels and...
(Posted on 15/06/18)
Flying Cement, a member of the Lahore-based conglomerate, Flying Group of Industries, is planning to increase its production considerably by building an 8,000t/dy kiln line. Aumund Fördertechnik won the order for two of the main bucket elevators required to achieve this project, those for the raw meal silo and the heat exchanger...
(Posted on 15/06/18)
A global leader in bulk handling equipment has helped one of the largest steel manufacturers in the world to train new staff on conveyor operations and safety at one of the company's newest facilities. After expanding the existing plant, Tata Steel Limited constructed a dedicated training facility and invited Martin Engineering...
(Posted on 15/06/18)
J D Neuhaus, manufacturer of air hoists, cranes, trolleys and monorail hoists, has further enhanced their remote control capabilities. This innovation will bring exceptional ease-of-use and convenience to users across all industries. Three remote control models are now available, RC-X, RC S and RC-SP, each comprising of a transmitter...