Equipment
(Posted on 11/09/18)
Thordon Bearings is offering its award-winning COMPAC seawater lubricated propeller shaft bearing system with a lifetime bearing wear life guarantee.To date, the COMPAC bearing has been offered with a 15-year wear life guarantee, but with the development announced last week at the SMM 2018 trade show in Hamburg, Germany, Thordon...
(Posted on 11/09/18)
The technology group Wärtsilä has announced the introduction of its new Nacos Platinum solid state S-Band radar system. This next generation marine radar offering promotes safety via optimised target detection, regardless of the prevailing environmental conditions. Furthermore, the compact design enhances system reliability...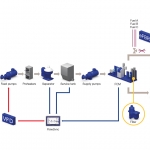 (Posted on 03/09/18)
Alfa Laval has a unique depth of expertise in marine fuel treatment, encompassing not just fuel separators but the whole chain from bunker tank to engine. As on-board operations change in response to fuel sulphur regulations, the company is optimizing and updating the technologies in its portfolio to meet the new challenges. The...
(Posted on 03/09/18)
RIMS (Robotics In Maintenance Strategies) continues in their quest in the practical integration of drone technology in the world maritime surveying with yet another class society approval for the use of Remote Inspection Techniques (drones) during surveys of enclosed spaces, this time from ClassNK. Over the past 12 months...
(Posted on 03/09/18)
Swedish bio-tech innovator I-Tech AB has developed a new 'drop-in, dust-free' dissolvable packaging system to enhance the way the antifouling active agent Selektope is added to marine coatings during the manufacturing process.The expanded polystyrene (EPS) container, which can be added to paint without being opened,...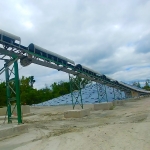 (Posted on 28/08/18)
An innovative cement manufacturer in the Midwestern U.S. has implemented a unique power solution at a remote conveyor location that lacked convenient electrical access. The patent-pending design uses the kinetic energy of the moving belt to generate enough electricity to drive an automated dust suppression system, a pneumatic belt...