Equipment
(Posted on 23/05/19)
ABB will provide a power and propulsion solution for a newbuild vessel operating along the Rhône river in France to run entirely on hydrogen fuel cells ABB strengthens its position as the marine market's frontrunner on hydrogen fuel cell technology through its role in FLAGSHIPS, the EU-funded initiative to deploy commercially...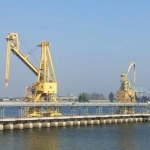 (Posted on 20/05/19)
Kalmar, part of Cargotec, has been awarded a contract to perform a comprehensive refurbishment of two unloader cranes for leading Malaysian flour-milling company Malayan Flour Mills Berhad (MFM). The order was booked in Cargotec's 2019 Q1 order intake and the work is scheduled to be completed during the beginning of Q2 2020.MFM...
(Posted on 20/05/19)
Alfa Laval will make a strong showing at this year's Nor-Shipping, Northern Europe's leading international forum for maritime industry. While diverse equipment, knowledge and services will be on display, the stand will have a single focus: partnership with customers to secure lifetime vessel performance. Having entered...
(Posted on 14/05/19)
Liebherr has handed over two Liebherr mobile harbour cranes type LHM 550 to Maputo Port Development Company (MPDC). The LHM 550 delivers high capacity and fast movements for an outstanding productivity in bulk handling operation.Maputo is the capital of the East African state of Mozambique. The port city on the Indian Ocean is one...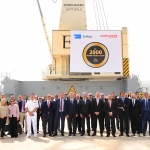 (Posted on 14/05/19)
The 2,000th Konecranes Gottwald Mobile Harbor Crane has been inaugurated in a formal ceremony at the Ership terminal in the Mediterranean port of Cartagena in southeastern Spain.The crane is Ership's new eco-efficient Konecranes Gottwald Model 6 mobile harbour crane, in the G HMK 6407 B four-rope variant. They will use it...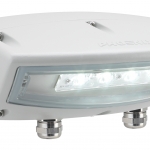 (Posted on 14/05/19)
Phoenix has introduced the latest addition to its durable LED product line – the Wayfinder. Built with custom optics specifically for ports, the Wayfinder has the highest lumen/watt output in its class, delivering 1,100 lumens to accessways, walkways, stairways, platforms and other small areas. This powerful yet compact light...