Italian terminal orders Generation 6 Konecranes Gottwald MHC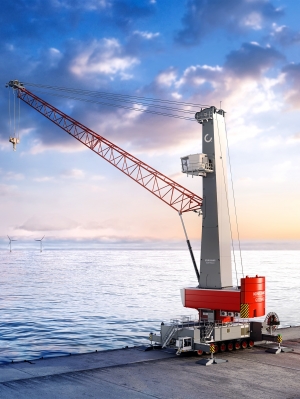 (Posted on 01/10/22)
TDG, Terminal Del Golfo, part of Tarros Group, has ordered an eco-efficient Generation 6 Konecranes Gottwald Mobile Harbour Crane for their operation in La Spezia, in north-western Italy. The crane represents the latest in mobile harbour crane technology: it will be equipped with an external power supply that lowers operating costs while reducing noise and exhaust emissions. The order was booked in July 2022 and the crane will be delivered in the first quarter of 2023.
The new Generation 6 crane will increase capacity and improve flexibility at the terminal. It can handle general cargo, containers and heavy project cargo, and its external power supply will raise both operational performance and reduce local carbon emissions. When unplugged the crane uses a hybrid drive, consisting of an EU Stage V diesel engine paired with ultracapacitors refilled by lowering and braking energy.
The crane will work at Terminal del Golfo (TDG), operated by Tarros Group, a port operator with a network of depots and terminals across the Mediterranean region.
"We are excited to utilize the latest eco-efficient mobile harbour crane technology to support our terminal enlargement project in La Spezia. We were convinced by the combination of productivity, flexibility and eco-efficiency that the Generation 6 offers," says Andrea Natale, Terminal Manager at TDG.
The crane is TDG's first Generation 6 mobile harbour crane. The decision to purchase one was supported by Konecranes' MHC Product Advisor, a virtual tool that helps operators find the right mobile harbor crane. The crane will have smart features such as automatic lubrication to reduce maintenance work, an emergency ladder on the tower wall for added safety, and digital services that streamline operation in line with Italy's National Industry 4.0 Plan, a state strategy that encourages industrial innovation.
"This order underlines the strengths of the Generation 6 crane, with its high productivity, reliability and eco-efficiency, and we are proud to support TDG in their terminal expansion" says Gino Gherri, Regional Sales Manager, Port Solutions, Konecranes.
This order is part of Ecolifting, Konecranes' continuous work to decrease the carbon footprints of our customers. From eco-optimizing diesel drives to hybridization and fully-electrified fleets, we will continue to do more with less.
Latest News
(Posted on 07/12/23)
In an initiative set to be transformational for ship design while protecting the oceans from pollution... Read more
(Posted on 03/12/23)
Ship design, particularly the design of bulk carriers, presents particular challenges when it comes... Read more
(Posted on 26/11/23)
VIKING Life-Saving Equipment, a global leader in maritime safety solutions, is launching an innovative... Read more
(Posted on 26/11/23)
Damen's client Gerdes Green has received a subsidy from the German Government for the investment... Read more
(Posted on 17/11/23)
A first of its kind training course for the Middle East has been held to teach mariners about the basic... Read more
(Posted on 13/11/23)
Wärtsilä ANCS, part of technology group Wärtsilä, has delivered to Seaspan, a marine... Read more
(Posted on 31/10/23)
The flag raising ceremony for three new ASD Tugs has taken place in Gdansk, Poland. In the presence... Read more
(Posted on 26/10/23)
A new immersive crane simulator that can recreate high-risk scenarios without putting drivers or other... Read more
(Posted on 23/10/23)
Vesto Ropes, a global leader in innovative steel wire-rope solutions, has announced a strategic partnership... Read more
(Posted on 23/10/23)
Bedeschi S.p.a. has been awarded a contract for the design and supply of a new longitudinal storage... Read more