Liebherr sending three additional LHMs to Spanish terminals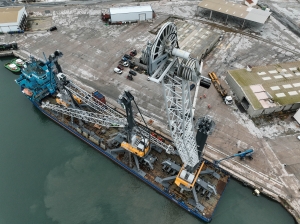 (Posted on 25/09/22)
Boarding the Heavy Load Carrier MERI in the early hours of 5 September, three Liebherr mobile harbour cranes were prepared for their journey to Spain.
Three terminals operated by the Spanish company will benefit from the performance of the LHM 420 and LHM 550 models. Operations for a variety of cargo, supported by Liebherr cranes Port terminals operated by Noatum support a variety of commodities around their global supply chain.
Agricultural goods, minerals in bulk, steel, project cargo, and, containers, and more are all part of their logistic network. With their carrying capacity of 124 and 144 tonnes, respectively, the LHM 420 and LHM 550 can lift and handle a variety of cargo.
Improved productivity and reduced energy consumption part of hallmark outcomes Liebherr mobile harbour cranes offer effective solutions for reduced energy consumption while improving cargo handling productivity. This is in part achieved by Liebherr's proprietary hydrostatic drive, in which closed hydraulic loops are used for all main functions such as lifting, turning and luffing. The hydrostatic drive allows the operator extremely precise control. Additionally, service personnel benefit from a minimum number of components, and the operating company benefits from reduced fuel consumption.
Juan Carlos Jiménez, Divisional Manager Maritime Cranes in Liebherr Ibérica, remarks: "Liebherr is pleased to contribute to our customers' strategic value to provide continuous improvements. For our Spanish client Noatum, this includes supporting them in their aim to reduce their overall environmental footprint while still meeting the demands of increased global cargo traffic both in terms of volume and mass. The LHM 420 and LHM 550 meet their specific tonnage and diverse cargo needs at their Castellon, Sagunto and Tarragona terminals. With the LHM 420 model alone, they anticipate an improvement in productivity of up to 38 containers per hour."
Liebherr-MCCtec Rostock GmbH is one of the leading European manufacturers of maritime handling solutions. The product range includes ship, mobile harbour and offshore cranes.
Latest News
(Posted on 26/11/23)
VIKING Life-Saving Equipment, a global leader in maritime safety solutions, is launching an innovative... Read more
(Posted on 26/11/23)
Damen's client Gerdes Green has received a subsidy from the German Government for the investment... Read more
(Posted on 17/11/23)
A first of its kind training course for the Middle East has been held to teach mariners about the basic... Read more
(Posted on 13/11/23)
Wärtsilä ANCS, part of technology group Wärtsilä, has delivered to Seaspan, a marine... Read more
(Posted on 31/10/23)
The flag raising ceremony for three new ASD Tugs has taken place in Gdansk, Poland. In the presence... Read more
(Posted on 26/10/23)
A new immersive crane simulator that can recreate high-risk scenarios without putting drivers or other... Read more
(Posted on 23/10/23)
Vesto Ropes, a global leader in innovative steel wire-rope solutions, has announced a strategic partnership... Read more
(Posted on 23/10/23)
Bedeschi S.p.a. has been awarded a contract for the design and supply of a new longitudinal storage... Read more
(Posted on 18/10/23)
Rhenus Maritime Services (RMS) is adding a new coastal vessel to its fleet in the shape of the RMS Ruhrort... Read more
(Posted on 18/10/23)
Dualog, a leading maritime software provider, has introduced a major enhancement to the Dualog Drive... Read more