Cleveland Cascades chute for India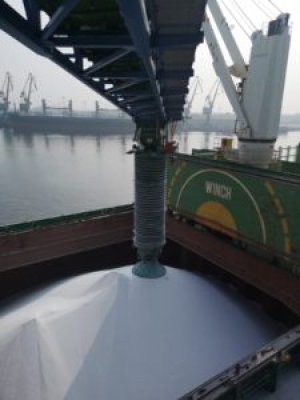 (Posted on 23/12/19)
Cleveland Cascades Engineers have recently supported with the installation and commissioning of a Cascade Chute Loading Alumina located in Vishakhapatnam, India.
Cleveland Cascades is a specialist in the design and manufacture of bespoke dry bulk loading chutes. Based in the North East of England, they have built a population of over 650 systems, working in bulk handling facilities worldwide.
The Vishakhapatnam Alumina loading chute is 18 meters in length at extension and can retract to approximately 7 meters for stowing. The chute's design is supplied with a pivoting type head chute in order to work in conjunction with a luffing boom.
The chute is one of our 1700 size systems and has the capacity to load up to 3,000 cubic meters of Alumina per hour from a belt fed conveyor system. The head chute, deflectors and cones are lined with 4mm ceramic tiles for abrasion resistance.
The cascade chute is fitted with a comprehensive suite of electrical components for safe operation and control, providing signalling for any potential blockages. All of the functions provide feedback to the control system for the ship loader with safety limits being interlocked with the conveyor system feeding the chute.
Cleveland Cascades are best known for our Cascade controlled flow technology chute, which uses a series of inclined cones, inside a retractable cover, to control dust pollution at source, while at the same time minimising both material degradation and segregation. This technology has established the company as a leading global force in ship and silo loading chutes.
In 2004 Ian Barnard, one of the original inventors of the system, set up Cleveland Cascade Ltd to develop and market the product worldwide. He has since been joined by his son Matthew Barnard, Commercial Director and the company has gone from strength to strength, with a wide product range and global sales.
Latest News
(Posted on 26/11/23)
VIKING Life-Saving Equipment, a global leader in maritime safety solutions, is launching an innovative... Read more
(Posted on 26/11/23)
Damen's client Gerdes Green has received a subsidy from the German Government for the investment... Read more
(Posted on 17/11/23)
A first of its kind training course for the Middle East has been held to teach mariners about the basic... Read more
(Posted on 13/11/23)
Wärtsilä ANCS, part of technology group Wärtsilä, has delivered to Seaspan, a marine... Read more
(Posted on 31/10/23)
The flag raising ceremony for three new ASD Tugs has taken place in Gdansk, Poland. In the presence... Read more
(Posted on 26/10/23)
A new immersive crane simulator that can recreate high-risk scenarios without putting drivers or other... Read more
(Posted on 23/10/23)
Vesto Ropes, a global leader in innovative steel wire-rope solutions, has announced a strategic partnership... Read more
(Posted on 23/10/23)
Bedeschi S.p.a. has been awarded a contract for the design and supply of a new longitudinal storage... Read more
(Posted on 18/10/23)
Rhenus Maritime Services (RMS) is adding a new coastal vessel to its fleet in the shape of the RMS Ruhrort... Read more
(Posted on 18/10/23)
Dualog, a leading maritime software provider, has introduced a major enhancement to the Dualog Drive... Read more