Anglo-Eastern enhances fleet performance with Wärtsilä's CII tool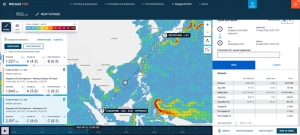 (Posted on 07/03/23)
With Wärtsilä's CII Dashboard, Anglo-Eastern is now able to make better informed decisions about the carbon intensity of its managed fleet, enabling quick and cost-effective improvements to the CII ratings for vessels under its management.
The technology group Wärtsilä has delivered the CII Dashboard within its Fleet Optimisation Solution (FOS) to 530 vessels in Anglo-Eastern's managed fleet. Anglo-Eastern is using FOS to improve the operational activity, voyage efficiency, and overall performance of the vessels under its management. In addition, the global ship manager is now utilising Wärtsilä's CII offering to collect, report, and analyse the annual operational Carbon Intensity Indicator (CII) of its managed fleet.
In anticipation of the International Maritime Organization's (IMO) EEXI and CII regulations, all 530 of Anglo-Eastern's FOS-enabled vessels were upgraded with the CII Dashboard in December 2022. Wärtsilä's CII Dashboard gives the global ship manager full visibility of each vessels current performance. Early action can thus be taken, enabling Anglo-Eastern to make better informed decisions about a vessel's carbon intensity, so that it can quickly and cost-effectively improve its CII rating in the short-term and position its managed fleet ahead of the IMO's 2025 revisions.
"With decarbonisation firmly at the top of Anglo-Eastern's agenda, it becomes necessary to have a clear view of the carbon intensity of our managed vessels in order to better understand how our fleet is faring against our and the industry's decarbonisation targets," said Bjorn Hojgaard, Chief Executive Officer of Anglo-Eastern. "Since implementing Wärtsilä's Fleet Optimisation Solution, we have been impressed with the insights the platform can provide. The CII Dashboard builds upon that, offering another level of meaningful insights that is both timely and highly relevant, which is one of the advantages of partnering with a technology company that is in tune with our requirements and commitment to safety, compliance, and decarbonisation."
Wärtsilä's integrated dashboard not only gives Anglo-Eastern greater visibility of how its fleet is performing on the carbon intensity front, but analyses all data from a vessel to identify the key factors affecting its rating – such as speed, route, hull and propeller condition – and what targeted, data-driven actions need to be taken to optimise CII performance over a voyage or series of voyages.
Vipin Achan, Head of Performance in charge of leading the Anglo-Eastern Fleet Performance Centre (AEFPC) in Mumbai said: "Our fleet performance centre is using the CII Dashboard to derive carbon intensity insights for better informed decision-making by all concerned stakeholders, as part of our commitment to continuous CII improvements across the fleet. Utilising the CII Dashboard allows us to pinpoint underperforming vessels and address those at risk, as well as vessels on the cusp of an improved CII grade, whilst providing a timeline of the projected progression of our managed fleet."
"With the maritime industry having a critical collective role to play in tackling climate change, CII provides the perfect catalyst to bring digitally enabled decision-making even closer to the heart of how the sector captures, processes, and reports emissions data," said Kay Dausendschoen, Head of Product, Fleet Operations & Optimisation at Wärtsilä. "Anglo-Eastern is ahead of the curve here. Adopting a data-driven decision-making approach to decarbonisation means that the global ship manager is better positioned to invest wisely, adapting its operations, technologies, and use of its fleet to turn compliance requirements into business opportunities."
Anglo-Eastern's implementation of Wärtsilä's FOS and integrated CII Dashboard are the latest collaborations in its partnership spanning three years.
Latest News
(Posted on 03/12/23)
Ship design, particularly the design of bulk carriers, presents particular challenges when it comes... Read more
(Posted on 26/11/23)
VIKING Life-Saving Equipment, a global leader in maritime safety solutions, is launching an innovative... Read more
(Posted on 26/11/23)
Damen's client Gerdes Green has received a subsidy from the German Government for the investment... Read more
(Posted on 17/11/23)
A first of its kind training course for the Middle East has been held to teach mariners about the basic... Read more
(Posted on 13/11/23)
Wärtsilä ANCS, part of technology group Wärtsilä, has delivered to Seaspan, a marine... Read more
(Posted on 31/10/23)
The flag raising ceremony for three new ASD Tugs has taken place in Gdansk, Poland. In the presence... Read more
(Posted on 26/10/23)
A new immersive crane simulator that can recreate high-risk scenarios without putting drivers or other... Read more
(Posted on 23/10/23)
Vesto Ropes, a global leader in innovative steel wire-rope solutions, has announced a strategic partnership... Read more
(Posted on 23/10/23)
Bedeschi S.p.a. has been awarded a contract for the design and supply of a new longitudinal storage... Read more
(Posted on 18/10/23)
Rhenus Maritime Services (RMS) is adding a new coastal vessel to its fleet in the shape of the RMS Ruhrort... Read more