East African cement operator orders Siwertell road-mobile ship unloader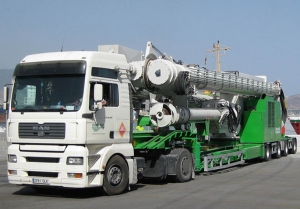 (Posted on 24/03/23)
Bruks Siwertell has secured an order for a next-generation Siwertell road-mobile ship unloader, which is destined to deliver extremely efficient, environment-friendly cement handling in East Africa.
"The undisputed high capacity and reliability of the Siwertell 15 000 S, the largest road-mobile unloading system available on the market today, were the main reasons why the operator opted for this particular Siwertell unit," says Jörgen Ojeda, Director, Mobile Unloaders, Bruks Siwertell. "Third-party consultant recommendations for our road-mobile solutions were also really important."
The Siwertell 15 000 S trailer-based unloader offers a rated cement handling capacity of 500t/h, discharging vessels of up to 15,000 dwt. It has a double bellows system for truck loading and is diesel-powered, fitted with a European Union (EU) Stage IIIA/Environmental Protection Agency (EPA) Tier 3 emissions class engine.
Screw-type ship unloaders also protect the environment through dust filters, and by having a completely enclosed conveying line from the ship's hold to the shore. This ensures a spillage-free operation and minimizes any dust emissions, particularly beneficial when handling very dry or powdery cargoes.
"Many African ports are undergoing a series of modernizations and our road-mobile systems are ideal for these programs. In addition to delivering environmental benefits, they offer flexibility, high material handling capacities, accommodate a range of vessel sizes and deliver continuously efficient ship unloading," notes Ojeda.
"Dry bulk markets, including the cement sector, can be quite unpredictable, with demand arising in regions that simply have not yet been developed. Road-mobile systems can literally drive to these locations, set up within an hour, and discharge vessels the moment that they have been unfolded," he adds.
"Siwertell road-mobile unloaders have a reputation for being very reliable and have numerous references worldwide. Customers know that they can rely on this track-record of support and have confidence in the team behind the Siwertell mobile unloader," Ojeda concludes.
The next-generation unloader is planned for delivery in spring 2024 and will also feature the latest programmable logic controller (PLC), which ensures peak operational performance and delivers advanced troubleshooting as well; an invaluable asset when working in remote locations.
Latest News
(Posted on 05/06/23)
Digitalisation can only go so far in protecting safe navigation in busy shipping lanes with human involvement... Read more
(Posted on 05/06/23)
Inmarsat Maritime, a Viasat business, and a world leader in global, mobile satellite communications,... Read more
(Posted on 02/06/23)
Belgian logistics and transportation company Zuidnatie NV ordered their first Generation 6 Konecranes... Read more
(Posted on 31/05/23)
Norwegian government agency Statsbygg has awarded Framo the development contract to supply pump systems... Read more
(Posted on 30/05/23)
Technology group Wärtsilä has signed a contract to deliver a Wärtsilä 20&nbsp... Read more
(Posted on 23/05/23)
Bruks Siwertell has secured an order from Senegal Minergy Port SA (SMP) for a high-capacity Siwertell... Read more
(Posted on 17/05/23)
To support the sizeable lumber industry in New Zealand, Liebherr Maritime Cranes has worked with ISO... Read more
(Posted on 14/05/23)
The Desmi Group's general assembly has approved the year end result for 2022 – record-high... Read more
(Posted on 06/05/23)
EMS-Tech, a leading provider of custom designed bulk material handling systems, has opened a new office... Read more
(Posted on 02/05/23)
Technology group Wärtsilä and DNV's industry cloud platform Veracity have entered a... Read more