Electric, Smart, Powerful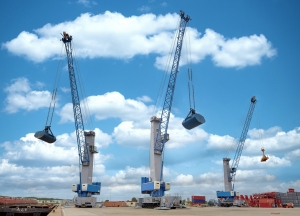 (Posted on 16/06/21)
Konecranes is instilling new Generation 6 mobile harbour cranes with a genetic code for the future.
Konecranes Gottwald Generation 6 Mobile Harbour Cranes are built on the genetic code of Electric, Smart, Powerful. They combine technology proven a thousand times over with innovation, and offer not only high performance and eco-efficiency but a high level of intelligence, too.
With its new Generation 6 Mobile Harbour Cranes, Konecranes has transformed industrial megatrends and current port developments in ports and terminals into high-performance cargo-handling technology. The initial six crane models with maximum lifting capacities of 200 t and radii up to 64 m stand for sustainability, de-carbonization and eco-efficiency, in addition to ergonomics, digitalization and automation. They provide terminal operators with mobile cargo handling machines that not only reduce the ecological footprint, but also impress with robust design and distinct dynamics, as well as particularly smart equipment. To meet all requirements for handling performance, productivity, safety and serviceability, Konecranes has been in close communication with customers around the world throughout the development of Generation 6.
Konecranes' more than 60 years of experience as the inventor and premium manufacturer of mobile harbour cranes, plus its R&D strength as a global player, are evident in Generation 6. Heribert Barlage, Senior Vice President Business Unit Mobile Harbor Cranes, said: "Generation 6 combines pioneering spirit with the innovative power of the technology leader Konecranes. Our mobile harbour cranes have always stood for performance and dynamics, and they have always been electric. We have once again enhanced these features for Generation 6, while at the same time providing a high level of intelligence. The result is a total package with which we make our customers well prepared to meet today's requirements and at the same time provide them with the code for the challenges of tomorrow, ESP."
E for Electric denotes the electric drive systems of Konecranes Gottwald Mobile Harbour Cranes, in use since 1956. Generation 6 is designed so that customers can choose from several electric drive variants.
S for Smart stands for the added smart features that Konecranes has given its Generation 6 cranes. The interpretation of Smart has been particularly versatile here, for example ergonomics: This is where the new cranes impress with a state-of-the art cab, from which the crane operator has everything perfectly under control.
P for Powerful is the cross-generational original gene of all Konecranes Gottwald Mobile Harbor Cranes. P means: Dynamics and maximum performance in continuous-duty operation – serving all types of vessels in all terminals and in all applications.
Latest News
(Posted on 26/11/23)
VIKING Life-Saving Equipment, a global leader in maritime safety solutions, is launching an innovative... Read more
(Posted on 26/11/23)
Damen's client Gerdes Green has received a subsidy from the German Government for the investment... Read more
(Posted on 17/11/23)
A first of its kind training course for the Middle East has been held to teach mariners about the basic... Read more
(Posted on 13/11/23)
Wärtsilä ANCS, part of technology group Wärtsilä, has delivered to Seaspan, a marine... Read more
(Posted on 31/10/23)
The flag raising ceremony for three new ASD Tugs has taken place in Gdansk, Poland. In the presence... Read more
(Posted on 26/10/23)
A new immersive crane simulator that can recreate high-risk scenarios without putting drivers or other... Read more
(Posted on 23/10/23)
Vesto Ropes, a global leader in innovative steel wire-rope solutions, has announced a strategic partnership... Read more
(Posted on 23/10/23)
Bedeschi S.p.a. has been awarded a contract for the design and supply of a new longitudinal storage... Read more
(Posted on 18/10/23)
Rhenus Maritime Services (RMS) is adding a new coastal vessel to its fleet in the shape of the RMS Ruhrort... Read more
(Posted on 18/10/23)
Dualog, a leading maritime software provider, has introduced a major enhancement to the Dualog Drive... Read more