Inmarsat launches fleet xpress for shipyards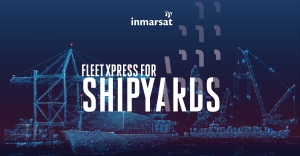 (Posted on 01/04/22)
Inmarsat, the world leader in global, mobile satellite communications, has made its market-leading maritime broadband service, Fleet Xpress, available to shipyards. Installed during new building, Fleet Xpress for Shipyards eliminates time-consuming and costly installation works in port, offering owners a pre-fitted very small aperture terminal (VSAT) solution included in the initial cost of the vessel.
"Fleet Xpress for Shipyards is a game-changer for shipbuilders and owners alike, streamlining installation, providing remote connectivity from vessel launch and enabling optimal integration between integral onboard systems," said Ben Palmer, President, Inmarsat Maritime. "We are delighted to collaborate on the shipyard offering with JRC and Intellian, two of our Value-added Manufacturers and trusted partners."
Inmarsat's newly-launched service enables delivery of Fleet Xpress capability to the shipyard during vessel construction. All terminals, cables, and below deck units are installed as a Fleet Xpress line-fit service, allowing the yard to deliver a one-stop solution to the owner that improves safety and offers fast and reliable connectivity from the first voyage.
"Working with Inmarsat to deliver Fleet Xpress for Shipyards allows us to strengthen our relationship with yards as a technology partner for smart vessels," said Eric Sung, CEO, Intellian. "As one of the world's top shipbuilders, we're delighted that Hyundai Heavy Industries is among the first to recognise the value of this line-fit solution - we're seeing significant interest from yards across all markets."
For shipyards, early installation of Fleet Xpress will enhance responsiveness to growing customer demand for high-speed communications and provide remote vessel monitoring and maintenance capabilities upon delivery. Furthermore, by using data to counter improper claims and ensure preventive operations, shipyards can minimise warranty costs.
With the vessel featuring state-of-the-art VSAT equipment at launch, owners and managers are assured that their bandwidth needs are fully integrated and sea-trialled at the point of handover, while the crew has access to fast, ultra-reliable connectivity as soon as they step onboard. In addition, Fleet Xpress allows the implementation of a range of digital services and automation onboard the vessel that further delivers advantages for ship performance and crew well-being.
"Fleet Xpress for Shipyards gives shipbuilders the competitive edge of being able to pre-install Inmarsat's industry-leading Fleet Xpress service," said Palmer. "Early interest in the solution has been strong. With the first implementations executed, we already have several more projects in the pipeline."
Latest News
(Posted on 07/12/23)
In an initiative set to be transformational for ship design while protecting the oceans from pollution... Read more
(Posted on 03/12/23)
Ship design, particularly the design of bulk carriers, presents particular challenges when it comes... Read more
(Posted on 26/11/23)
VIKING Life-Saving Equipment, a global leader in maritime safety solutions, is launching an innovative... Read more
(Posted on 26/11/23)
Damen's client Gerdes Green has received a subsidy from the German Government for the investment... Read more
(Posted on 17/11/23)
A first of its kind training course for the Middle East has been held to teach mariners about the basic... Read more
(Posted on 13/11/23)
Wärtsilä ANCS, part of technology group Wärtsilä, has delivered to Seaspan, a marine... Read more
(Posted on 31/10/23)
The flag raising ceremony for three new ASD Tugs has taken place in Gdansk, Poland. In the presence... Read more
(Posted on 26/10/23)
A new immersive crane simulator that can recreate high-risk scenarios without putting drivers or other... Read more
(Posted on 23/10/23)
Vesto Ropes, a global leader in innovative steel wire-rope solutions, has announced a strategic partnership... Read more
(Posted on 23/10/23)
Bedeschi S.p.a. has been awarded a contract for the design and supply of a new longitudinal storage... Read more