Pre-engineering key for Superior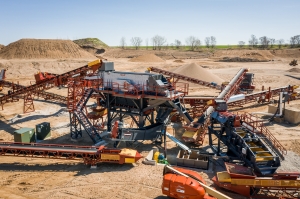 (Posted on 18/05/20)
Superior Industries, Inc., a U.S. based manufacturer and global supplier of bulk material processing and handling systems, is offering a new series of modular plants for aggregate crushing, sorting, sizing and washing applications. Known as Fusion Modular Platforms, these pre-engineered, ready-to-build systems still allow customisation to achieve best performance at each jobsite.
From rock face to load out, Superior Industries engineers and manufactures ground breaking bulk material processing and handling equipment and cutting-edge components. From its headquarters in Morris, Minnesota, USA, the manufacturer supplies bulk crushing, screening, washing and conveying systems plus all related parts and services for industries like aggregates and mining. In addition to its home plant, Superior operates from four additional U.S. facilities, plus international factories in Canada, Brazil and China.
"Our plant designs are scalable and easily expand with a developing customer site," says Mark Crooks, product manager at Superior Industries. "Producers can quickly expand capabilities as finances allow, application needs change and as their market develops."
Today, Superior has pre-engineered a series of plant packages and is working to design more for its catalog. Some examples include jaw, cone and impact crushing platforms, horizontal screening platforms with two, three and four deck models, plus a group of traditional washing and modern low water washing platforms.
"Overwhelmingly, our customers said they want scalability and flexibility in these modular offerings," says Crooks. "Therefore, as we developed our strategy, we ensured flexibility from top to bottom, convenient installation or dismantling and seamless integration with Superior crushing, screening, washing and conveying machinery."
Fusion Modular Platform systems are pre-engineered for earlier commissioning, more cost-effective than design-build plants, incorporate well into existing plants and utilize creative packaging to limit the number of flatbeds or shipping containers needed for transportation.


Latest News
(Posted on 26/11/23)
VIKING Life-Saving Equipment, a global leader in maritime safety solutions, is launching an innovative... Read more
(Posted on 26/11/23)
Damen's client Gerdes Green has received a subsidy from the German Government for the investment... Read more
(Posted on 17/11/23)
A first of its kind training course for the Middle East has been held to teach mariners about the basic... Read more
(Posted on 13/11/23)
Wärtsilä ANCS, part of technology group Wärtsilä, has delivered to Seaspan, a marine... Read more
(Posted on 31/10/23)
The flag raising ceremony for three new ASD Tugs has taken place in Gdansk, Poland. In the presence... Read more
(Posted on 26/10/23)
A new immersive crane simulator that can recreate high-risk scenarios without putting drivers or other... Read more
(Posted on 23/10/23)
Vesto Ropes, a global leader in innovative steel wire-rope solutions, has announced a strategic partnership... Read more
(Posted on 23/10/23)
Bedeschi S.p.a. has been awarded a contract for the design and supply of a new longitudinal storage... Read more
(Posted on 18/10/23)
Rhenus Maritime Services (RMS) is adding a new coastal vessel to its fleet in the shape of the RMS Ruhrort... Read more
(Posted on 18/10/23)
Dualog, a leading maritime software provider, has introduced a major enhancement to the Dualog Drive... Read more