Alfa Laval's methanol development reflects spectrum of changes on board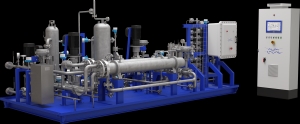 (Posted on 31/08/21)
The marine industry has ambitious decarbonization goals, but the fuel shift required to reach them will not occur overnight. The next step in the transition will likely be methanol, which – if produced from renewable green sources – will bring the industry to a level of carbon neutrality. At Alfa Laval, the technologies to enable that step are in rapid development.
As a low-flashpoint fuel, methanol poses significant challenges that require a new approach to fuel supply. Having led the way in fuel line solutions for traditional fuels, Alfa Laval has also been at the forefront with methanol, partnering with MAN Energy Solutions to develop a low-flashpoint supply system (LFSS) for ME-LGIM two-stroke engines. The Alfa Laval FCM Methanol has now reached more than 100,000 hours of operation, and the solution has been further developed to meet the additional requirements of methanol-fuelled four-stroke engines and Alfa Laval Aalborg boilers.
"Shipowners will save space and energy by using the same LFSS for the main engine, auxiliary engines and boilers fired with methanol," says Roberto Comelli, Business Manager Fuel Conditioning Systems. "We can engineer one FCM Methanol system to handle the process parameters of multiple methane consumers, with automation that meets all their different needs."
"When it comes to Aalborg boilers, which are prepared to work with methanol through our MultiFlame burner concept, the FCM Methanol ensures the correct fuel parameters," says Lars Skytte Jørgensen, Head of Technology Development, Energy Solutions. "What remains is to fine-tune methanol combustion for maximum boiler efficiency, which is work that's already in progress in full-scale testing at the Alfa Laval Test & Training Centre."
Handling and combusting methanol, however, will be only one side of the methanol equation. Because methanol contains less energy than traditional fuels, it will also be necessary to rethink energy use on methanol-fuelled vessels. Alfa Laval and partners are developing high-temperature proton exchange membrane (HTPEM) full cells to supplement energy production, but a new approach to existing energy sources will also be needed.
"Waste heat recovery, which is usually overlooked on today's vessels, will be a key component of tomorrow's methanol operations," says Jørgensen. "There will be less demand for steam on board, but the heat energy will need to be applied in other ways. Due to methanol's lower energy content and higher price, shipowners will want to turn every bit of the energy released into either mechanical or electrical power."
Alfa Laval is addressing this wider energy picture with both existing and new solutions. The Alfa Laval Aalborg Micro, for example, is already a well-established exhaust gas boiler. Connected to a fired boiler, it will add steam to a shared steam drum, thereby reducing methanol consumption by the burner. But it will also be possible to combine with a plate heat exchanger and the Alfa Laval E-PowerPack, a new solution based on the Organic Rankine Cycle (ORC).
Latest News
(Posted on 07/12/23)
In an initiative set to be transformational for ship design while protecting the oceans from pollution... Read more
(Posted on 03/12/23)
Ship design, particularly the design of bulk carriers, presents particular challenges when it comes... Read more
(Posted on 26/11/23)
VIKING Life-Saving Equipment, a global leader in maritime safety solutions, is launching an innovative... Read more
(Posted on 26/11/23)
Damen's client Gerdes Green has received a subsidy from the German Government for the investment... Read more
(Posted on 17/11/23)
A first of its kind training course for the Middle East has been held to teach mariners about the basic... Read more
(Posted on 13/11/23)
Wärtsilä ANCS, part of technology group Wärtsilä, has delivered to Seaspan, a marine... Read more
(Posted on 31/10/23)
The flag raising ceremony for three new ASD Tugs has taken place in Gdansk, Poland. In the presence... Read more
(Posted on 26/10/23)
A new immersive crane simulator that can recreate high-risk scenarios without putting drivers or other... Read more
(Posted on 23/10/23)
Vesto Ropes, a global leader in innovative steel wire-rope solutions, has announced a strategic partnership... Read more
(Posted on 23/10/23)
Bedeschi S.p.a. has been awarded a contract for the design and supply of a new longitudinal storage... Read more