New Liebherr MHC allows Toledo-Lucas to operate bigger grabs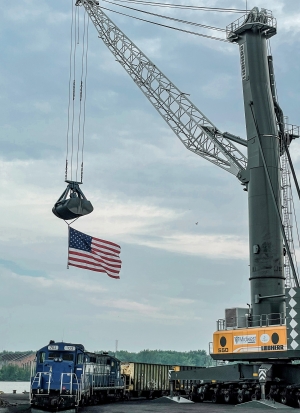 (Posted on 07/09/21)
The Toledo-Lucas County Port Authority has taken delivery of new Liebherr mobile harbour crane technology. The port is already successfully operating two LHM 280 for bulk handling operation for many years and is now preparing for future challenges. A new LHM 550 will give TLCPA the opportunity to handle bigger grabs and heavier project cargo goods.
The Port of Toledo is predominantly industrial and is one of the busiest ports on the Great Lakes. Toledo is a city in Lucas County in the northwest of the US state of Ohio, located southwest of Lake Erie. The Toledo-Lucas County Port Authority has been in charge at the port since 1955.
Since 2010, two LHM 280s have been in operation at the port of Toledo. Both cranes are primarily used for bulk handling. TLCPA is very satisfied with the performance of the cranes and especially appreciates the reliability of the two machines. In order to be able to serve its customers more quickly in the bulk-handling sector in the future, a new and much more powerful Liebherr mobile harbour crane of the type LHM 550 has been ordered.
The LHM 550 is equipped with a 4.80 metres tower extension and a 54 metres boom for best reach.
With a maximum lifting capacity of up to 144 tonnes, the new crane is able to use much larger grabs and thus handle more bulk material in a shorter time. In addition, the significantly higher payload, compared to the two existing machines, opens up the possibility for the customer to handle heavier project cargo in the future.
"The investment in a third mobile harbour crane creates a more efficient cargo handling performance at the Port of Toledo that results in shorter lay times for cargo vessels," said Thomas Winston, President and CEO of Toledo-Lucas County Port Authority. "The new crane means further growth for us, not only in the bulk sector, but also in the project cargo business sector. In addition to increasing performance, the LHM 550 is an eco-efficient crane that has a Tier 4 final emissions standard and a highly efficient hydrostatic drive."
Latest News
(Posted on 24/03/23)
Bruks Siwertell has secured an order for a next-generation Siwertell road-mobile ship unloader, which... Read more
(Posted on 20/03/23)
Thordon Bearings is supplying its grease-free, self-lubricating ThorPlas-Blue bearing material to a... Read more
(Posted on 20/03/23)
French water treatment specialist BIO-UV Group has appointed Laurent-Emmanuel Migeon as its new Chairman... Read more
(Posted on 07/03/23)
With Wärtsilä's CII Dashboard, Anglo-Eastern is now able to make better informed decisions... Read more
(Posted on 07/03/23)
Bruks Siwertell has completed the commissioning of two large-scale Siwertell ST 790-D-type ship unloaders... Read more
(Posted on 28/02/23)
A consortium including technology group Wärtsilä has secured European Union funding to develop... Read more
(Posted on 28/02/23)
Bruks Siwertell has received an order for a next-generation Siwertell road-mobile ship unloader from... Read more
(Posted on 24/02/23)
Global Survival Technology solutions provider Survitec has introduced a new, formalised pre-inspection... Read more
(Posted on 24/02/23)
The slightest deviation in the machining, polishing, and finishing of ships' propeller blades... Read more
(Posted on 20/02/23)
Bühler expanded its business and improved profitability in an uncertain and volatile business environment... Read more