Su-Nav installs world first water condenser on bulker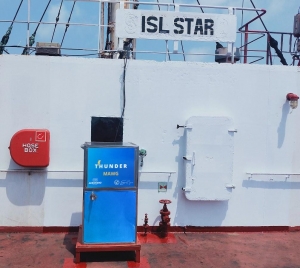 (Posted on 29/08/21)
Su-Nav, the integrated ship management company, has rolled out the latest sustainable, green product from its Su-Nav Aeronero Innovation Centre which will provide thousands of seafarers with pure drinking water, free from harmful bacteria and eliminating the use of plastic bottles.
The machine, which has been installed on three vessels, is especially designed for marine applications by considering the adverse conditions, internal operations in the vessel & inability for servicing/maintaining. It can generate 150 to 1000 litres of pure drinking water per day. Since it uses the humidity to produce water, the marine environment provides optimum conditions for its use. The stainless-steel body also ensures longevity for use at sea. This technology will then be transferred to the rest of Su-Nav's all-bulker fleet.
"The seafarers are forced to consume water from tanks or plastic bottles received from different countries which results in various potentially harmful microbes in the gut. There is also the possibility of water contamination from fresh water being loaded into our tanks," said Sachit Sahoonja, CEO of Su-Nav.
"The use of plastic is extremely harmful to the environment, so our Innovation Centre has produced a machine that is plastic free, sustainable and produces unlimited clean drinking water. We estimate that we can save of tens of thousands of plastic water bottles per year across our growing fleet," he added.
"The Su-Nav Aeronero Innovation Centre is housed within our maritime academy. In addition to the research lab, we also have the production centre in the same campus. The researchers are highly qualified individuals in the field of innovation and have been on board our vessels to study the various areas of interest. Our clients have been highly supportive of this venture and without their support none of this would have gone ahead," he added.
Durga Das, CEO of Aeronero & Head of Su-Nav Aeronero Innovation Centre said "Aeronero is delighted to embark on this journey with Su-Nav and we intend to bring about several key innovations from our Su-Nav Aeronero Innovation Center over the next few years. Water being an immediate challenge, we decided to address this as a priority and we believe we will bring relief to all seafarers with this green technology."
With offices in India, Singapore, China and Szczecin – Su-Nav Group offers global coverage and is uncompromising in its approach towards safety and the marine environment.
With an overarching focus on crew, vessel safety and care for the environment, Su-Nav Group provides a broad range of services to ship owners globally from offices in India and Singapore. We wish to become a global pioneer in technology, innovation, and services for worldwide vessel owners.
Latest News
(Posted on 07/12/23)
In an initiative set to be transformational for ship design while protecting the oceans from pollution... Read more
(Posted on 03/12/23)
Ship design, particularly the design of bulk carriers, presents particular challenges when it comes... Read more
(Posted on 26/11/23)
VIKING Life-Saving Equipment, a global leader in maritime safety solutions, is launching an innovative... Read more
(Posted on 26/11/23)
Damen's client Gerdes Green has received a subsidy from the German Government for the investment... Read more
(Posted on 17/11/23)
A first of its kind training course for the Middle East has been held to teach mariners about the basic... Read more
(Posted on 13/11/23)
Wärtsilä ANCS, part of technology group Wärtsilä, has delivered to Seaspan, a marine... Read more
(Posted on 31/10/23)
The flag raising ceremony for three new ASD Tugs has taken place in Gdansk, Poland. In the presence... Read more
(Posted on 26/10/23)
A new immersive crane simulator that can recreate high-risk scenarios without putting drivers or other... Read more
(Posted on 23/10/23)
Vesto Ropes, a global leader in innovative steel wire-rope solutions, has announced a strategic partnership... Read more
(Posted on 23/10/23)
Bedeschi S.p.a. has been awarded a contract for the design and supply of a new longitudinal storage... Read more