Konecranes and Cargotec to merge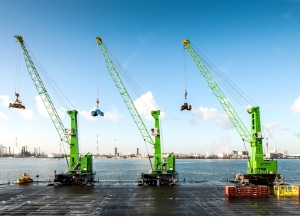 (Posted on 02/10/20)
Plans for Konecranes and Cargotec to merge have been announced in a move which will create a global leader in sustainable, intelligent material flow.
A statement released by Konecranes to customers and contacts highlighted the historic moment for Konecranes and the material handling industry as a whole.
The statement continued, "We are excited to be able to share more details with you as well as what the next steps are in your journey with us.
While Konecranes and Cargotec have been competitors for many years, we also have much in common: Nordic roots, a global outlook, an intense focus on safety and helping customers like you with their material flows, and a commitment to sustainable growth. The opportunity to join forces with Cargotec and create a leader in sustainable material flow resonated deeply with us.
The announcement comes at a pivotal moment in our industry's development. When you look at trends like automation, robotics, electrification and digitalization, it is clear that together with Cargotec we have the opportunity to become something bigger, something greater than the sum of our parts. Our intelligent technology and broad service network will enable us to deliver even better lifecycle value to you and improve our ability to solve the sustainability challenges in the industry. Backing all of this will be our combined team of top global talent.
While we have taken a big step with the announcement today, there is still much work to do. The combination needs the transaction and competition approval processes to be completed, something we expect to happen by the end of 2021 at the earliest. We will keep you regularly updated as we work towards and meet our major milestones along the way.
Until closing, Konecranes and Cargotec will continue to operate separately and independently. From Konecranes' perspective, we will continue to serve your needs with our utmost dedication. In that regard, nothing has changed at all – we continue to be as customer focused as before.
We are excited about the value that this merger shall create for customers, shareholders, and partners, and confident that this shall translate into mutual opportunity for both our companies."
Latest News
(Posted on 26/11/23)
VIKING Life-Saving Equipment, a global leader in maritime safety solutions, is launching an innovative... Read more
(Posted on 26/11/23)
Damen's client Gerdes Green has received a subsidy from the German Government for the investment... Read more
(Posted on 17/11/23)
A first of its kind training course for the Middle East has been held to teach mariners about the basic... Read more
(Posted on 13/11/23)
Wärtsilä ANCS, part of technology group Wärtsilä, has delivered to Seaspan, a marine... Read more
(Posted on 31/10/23)
The flag raising ceremony for three new ASD Tugs has taken place in Gdansk, Poland. In the presence... Read more
(Posted on 26/10/23)
A new immersive crane simulator that can recreate high-risk scenarios without putting drivers or other... Read more
(Posted on 23/10/23)
Vesto Ropes, a global leader in innovative steel wire-rope solutions, has announced a strategic partnership... Read more
(Posted on 23/10/23)
Bedeschi S.p.a. has been awarded a contract for the design and supply of a new longitudinal storage... Read more
(Posted on 18/10/23)
Rhenus Maritime Services (RMS) is adding a new coastal vessel to its fleet in the shape of the RMS Ruhrort... Read more
(Posted on 18/10/23)
Dualog, a leading maritime software provider, has introduced a major enhancement to the Dualog Drive... Read more