Magdragon II picks up the pace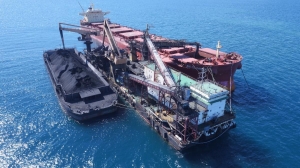 (Posted on 12/05/20)
The offshore iron ore transloading barge, Magdragon II, which has two E-Cranes, handled close to 1.5 million tons of magnetite iron ore in March 2020.
Magdragon II is a floating transfer station – operating close to Cape Preston in the Pilbara Region of West-Australia – with two 3000B series E-Cranes designed to unload magnetite from ocean going barges into hoppers, which feed a conveyor system and ship loader. The transfer station mainly loads Mini Cape vessels destined for China. Manufacturer of High Production Bulk Material and Scrap Cranes, E-Crane has congratulated all at Citic Pacific Mining with this record throughout, especially considering the challenging working conditions during this Covid-19 pandemic.
Designed specifically for barge and ship unloading, E-Crane is a proven and trusted solution in many bulk material handling industries.
Many dedicated systems for offloading coal, limestone and other bulk materials are costly, inflexible and require an expensive, hard to maintain infrastructure. The versatile, flexible E-Crane is just the opposite. E-Crane's modular design and custom solutions make it the ideal equipment for any bulk handling application. E-Crane is purpose built for dedicated tasks including: Offloading Panamax/Handymax Sized Vessels; Barge Loading/Unloading; Ship Loading/Unloading; Feeding Hoppers; Stockpiling.
CITIC Pacific Mining is a wholly-owned subsidiary of Hong Kong listed company CITIC Limited. Headquartered in Perth, the company was established to manage the construction and operation of Sino Iron, an integrated mining, processing and port operation supplying high-grade, low impurity iron ore product to the steel mills of Asia.
Latest News
(Posted on 02/06/23)
Belgian logistics and transportation company Zuidnatie NV ordered their first Generation 6 Konecranes... Read more
(Posted on 31/05/23)
Norwegian government agency Statsbygg has awarded Framo the development contract to supply pump systems... Read more
(Posted on 30/05/23)
Technology group Wärtsilä has signed a contract to deliver a Wärtsilä 20&nbsp... Read more
(Posted on 23/05/23)
Bruks Siwertell has secured an order from Senegal Minergy Port SA (SMP) for a high-capacity Siwertell... Read more
(Posted on 17/05/23)
To support the sizeable lumber industry in New Zealand, Liebherr Maritime Cranes has worked with ISO... Read more
(Posted on 14/05/23)
The Desmi Group's general assembly has approved the year end result for 2022 – record-high... Read more
(Posted on 06/05/23)
EMS-Tech, a leading provider of custom designed bulk material handling systems, has opened a new office... Read more
(Posted on 02/05/23)
Technology group Wärtsilä and DNV's industry cloud platform Veracity have entered a... Read more
(Posted on 28/04/23)
METIS Cyberspace Technology will be collaborating with MTI Co. Ltd. Singapore Branch and the Agency... Read more
(Posted on 24/04/23)
Utrecht-based startup Sensing360 and Damen Shipyards Group have formed a partnership to improve the... Read more