Campostano Anchor updates with eco-efficient Konecranes Gottwald MHC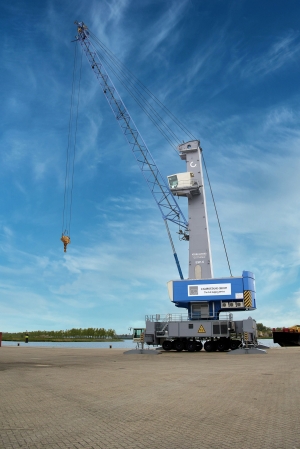 (Posted on 08/02/23)
Campostano Anchor, part of the Campostano Group (CG), has ordered a Generation 6 Konecranes Gottwald Mobile Harbour Crane for bulk material and general cargo handling to update their existing fleet at their terminal in Savona, northern Italy. The order was booked in December 2022 and the crane will be delivered in June 2023.
"We have high expectations for our material handling cranes, and Konecranes has fulfilled them all. They've offered us an easily adaptable, high-performance hybrid solution that will bring a new level of productivity to our terminal while helping us to cut our carbon emissions and fuel consumption," says Ettore
Campostano, Owner and CEO of CG. "In addition, digital services will give us insights into our crane's performance and condition data to streamline its operation and maintenance," he said.
"We're excited that Campostano Group has chosen to add a Generation 6 Konecranes Gottwald Mobile Harbour Crane to their terminal fleet. We've worked with CG for over 30 years, and they trust our ability to meet their changing requirements with high-quality equipment that follows local standards and lifts their business into the future," says Gino Gherri, Regional Sales Manager, Port Solutions, Konecranes.
The new crane is a Generation 6 Konecranes Gottwald ESP.6 Mobile Harbour Crane, with a working radius of 49 m and a lifting capacity of 125 t to serve vessels up to Panamax class. Its strong lifting capacity curves improve cargo handling rates and a high classification ensures a long service life. The crane uses the innovative Konecranes hybrid drive, which comprises an EU Stage V diesel engine paired with an ultracapacitor that can be recharged by energy recovered from lowering and braking motions. This gives the power needed for peak performance, while saving fuel when moving lighter loads.
For a better understanding of how their crane is operating, Campostano Anchor will use TRUCONNECT remote monitoring. The crane sends its data via a secure mobile connection to the Konecranes cloud service, accessible through the customer web portal your KONECRANES. Whether their ESP.6 is online or offline, Campostano can get a full overview of the crane, with information such as fuel consumption and handling performance, as well as a detailed analysis of every load cycle and diagnostic messages. With a combination of remote monitoring and a tailored spare parts package, local technicians will have the resources they need for fast and efficient maintenance. Konecranes digital services align well with Italy's National Industry 4.0 Plan, a state strategy that encourages industrial innovation.
Latest News
(Posted on 07/12/23)
In an initiative set to be transformational for ship design while protecting the oceans from pollution... Read more
(Posted on 03/12/23)
Ship design, particularly the design of bulk carriers, presents particular challenges when it comes... Read more
(Posted on 26/11/23)
VIKING Life-Saving Equipment, a global leader in maritime safety solutions, is launching an innovative... Read more
(Posted on 26/11/23)
Damen's client Gerdes Green has received a subsidy from the German Government for the investment... Read more
(Posted on 17/11/23)
A first of its kind training course for the Middle East has been held to teach mariners about the basic... Read more
(Posted on 13/11/23)
Wärtsilä ANCS, part of technology group Wärtsilä, has delivered to Seaspan, a marine... Read more
(Posted on 31/10/23)
The flag raising ceremony for three new ASD Tugs has taken place in Gdansk, Poland. In the presence... Read more
(Posted on 26/10/23)
A new immersive crane simulator that can recreate high-risk scenarios without putting drivers or other... Read more
(Posted on 23/10/23)
Vesto Ropes, a global leader in innovative steel wire-rope solutions, has announced a strategic partnership... Read more
(Posted on 23/10/23)
Bedeschi S.p.a. has been awarded a contract for the design and supply of a new longitudinal storage... Read more