Cargotec appoints Casimir Lindholm as President and CEO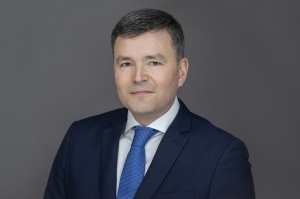 (Posted on 06/02/23)
Cargotec's Board of Directors has appointed Casimir Lindholm as Cargotec's new President and CEO as of 1 April 2023, until which Cargotec's current President and CEO Mika Vehviläinen will hold his position.
Mr. Lindholm has held CEO positions both in Eltel and Lemminkäinen and many board memberships, bringing a wealth of experience to Cargotec. Casimir Lindholm has been a member of Cargotec's Board of Directors since 2021, and due to his appointment, he will no longer be available for re-election in Cargotec's AGM on 23 March 2023.
"I'm honored and excited to be leading Cargotec at such a pivotal moment in the company's history, with a strong foundation and a clear vision into its next development phase of growth as we have communicated before. With a talented team, a strong portfolio of businesses with decision making close to customers, and a commitment to sustainability and profitable growth, I believe that the company is in an excellent position to create value by empowering our businesses even further in the years to come," says Casimir Lindholm.
"Casimir is a seasoned leader as a listed company CEO with a proven track record of reshaping businesses. His membership in Cargotec's Board is an advantage providing profound knowledge and understanding of Cargotec's business and strategic direction. The work to develop the company to its full potential continues and the Board of Directors is confident that under Casimir's leadership, Cargotec will continue to drive value for our shareholders and customers. Additionally, I would like to express our gratitude to our retiring CEO Mika Vehviläinen for his leadership and outstanding contributions to our business," says Jaakko Eskola, Chair of the Board of Directors
The remuneration of Cargotec CEO consists of a fixed monthly salary, fringe benefits, and performance-based incentive programs in line with Cargotec's remuneration policy. The CEO's retirement age is in accordance with the applicable legislation.
Mika Vehviläinen was appointed as Cargotec CEO in 2013. Cargotec announced on 20 December 2022, that Mr. Vehviläinen had informed the Board of his intention to retire from Cargotec during 2023, in accordance with the terms of his CEO service contract and that Cargotec's Board of Directors had initiated a search for a successor for the CEO Mika Vehviläinen. Mr. Vehviläinen will remain at the disposal of the Board of Directors as an advisor until the end of February 2024, after which he will retire.
Latest News
(Posted on 03/12/23)
Ship design, particularly the design of bulk carriers, presents particular challenges when it comes... Read more
(Posted on 26/11/23)
VIKING Life-Saving Equipment, a global leader in maritime safety solutions, is launching an innovative... Read more
(Posted on 26/11/23)
Damen's client Gerdes Green has received a subsidy from the German Government for the investment... Read more
(Posted on 17/11/23)
A first of its kind training course for the Middle East has been held to teach mariners about the basic... Read more
(Posted on 13/11/23)
Wärtsilä ANCS, part of technology group Wärtsilä, has delivered to Seaspan, a marine... Read more
(Posted on 31/10/23)
The flag raising ceremony for three new ASD Tugs has taken place in Gdansk, Poland. In the presence... Read more
(Posted on 26/10/23)
A new immersive crane simulator that can recreate high-risk scenarios without putting drivers or other... Read more
(Posted on 23/10/23)
Vesto Ropes, a global leader in innovative steel wire-rope solutions, has announced a strategic partnership... Read more
(Posted on 23/10/23)
Bedeschi S.p.a. has been awarded a contract for the design and supply of a new longitudinal storage... Read more
(Posted on 18/10/23)
Rhenus Maritime Services (RMS) is adding a new coastal vessel to its fleet in the shape of the RMS Ruhrort... Read more