Italian terminal to meet demand with Konecranes Gottwald MHCs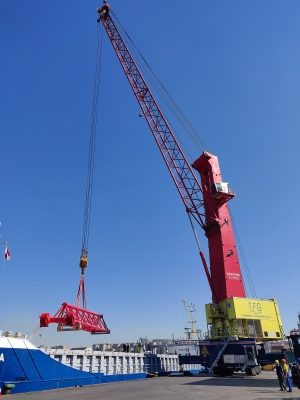 (Posted on 29/09/21)
Terminal Flavio Gioia S.p.A. (TFG) has ordered two eco-efficient Konecranes Gottwald Mobile Harbor Cranes for its terminal in Naples, bolstering its material handling capacity to keep up with demand. The first order was placed in March 2021, and the option for a second was exercised in August, reflecting the need to quickly ramp up business. The first crane is already in operation and the second will start in early 2022.
TFG is the main terminal of Gruppo Bucci, specialists in international logistics based in Naples. The company provides manufacturers in Italy with import and export services including the management and handling of multimodal connections and container shipments to and from local destinations.
"The cranes we've ordered in 2021 are central to our long-term growth plan to expand and improve our logistics offering. We've had a strong partnership with Konecranes for nearly 20 years, and they've always shown us a humble, reliable and professional commitment that we value," says Roberto Bucci, Chairman and Founder of Gruppo Bucci.
"TFG extended their order from one to two cranes very quickly, showing they trust our technology to realize their logistical ambitions. This trust comes from our long and successful history working together, and we look forward to taking that into 2022 and beyond," says Gino Gherri, Regional Sales Manager for Konecranes Port Solutions.
The crane ordered in March was a Konecranes Gottwald Model 7 Mobile Harbour Crane in the G HMK 7608 variant, with a working radius of 54 m and a capacity of 150 t. The second crane will be a Model 6 in the G HMK 6507 variant, with a working radius of up to 51 m and a capacity of 125 t. With their long reach, high working speed and range of attachments, the cranes have the precision and flexibility to handle both breakbulk and general cargo. Remote monitoring will make maintenance and repairs easy to plan. There is built-in readiness for an external power supply, so conversion to electric operation will be easy when resources allow. A range of Smart Features is included that will improve performance and efficiency, bringing the cranes in line with EU climate directives and Italy's National Industry 4.0 Plan, a state strategy that encourages industrial innovation.
Latest News
(Posted on 07/12/23)
In an initiative set to be transformational for ship design while protecting the oceans from pollution... Read more
(Posted on 03/12/23)
Ship design, particularly the design of bulk carriers, presents particular challenges when it comes... Read more
(Posted on 26/11/23)
VIKING Life-Saving Equipment, a global leader in maritime safety solutions, is launching an innovative... Read more
(Posted on 26/11/23)
Damen's client Gerdes Green has received a subsidy from the German Government for the investment... Read more
(Posted on 17/11/23)
A first of its kind training course for the Middle East has been held to teach mariners about the basic... Read more
(Posted on 13/11/23)
Wärtsilä ANCS, part of technology group Wärtsilä, has delivered to Seaspan, a marine... Read more
(Posted on 31/10/23)
The flag raising ceremony for three new ASD Tugs has taken place in Gdansk, Poland. In the presence... Read more
(Posted on 26/10/23)
A new immersive crane simulator that can recreate high-risk scenarios without putting drivers or other... Read more
(Posted on 23/10/23)
Vesto Ropes, a global leader in innovative steel wire-rope solutions, has announced a strategic partnership... Read more
(Posted on 23/10/23)
Bedeschi S.p.a. has been awarded a contract for the design and supply of a new longitudinal storage... Read more