Wärtsilä and SHI collaborate on ammonia fuelled engines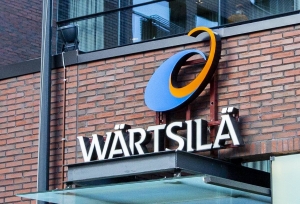 (Posted on 29/09/21)
The technology group Wärtsilä and the Korean shipbuilding company Samsung Heavy Industries (SHI) have signed a joint development programme (JDP) agreement aimed at developing ammonia-fuelled vessels with 4-stroke auxiliary engines available for future newbuild projects. Both parties recognise the importance of future carbon-free fuels in the marine industry's drive towards decarbonisation. The agreement was signed in July 2021.
Wärtsilä has a leading role in developing engines for operation on future clean fuels, and has already successfully tested an engine running with a fuel mix containing 70 percent ammonia. The company anticipates having an engine concept capable of operating with 100 percent ammonia in 2023.
"There is a lot of interest from owners and operators in the potential for new clean-burning fuels, and ammonia is thought to be among the most promising of these candidates. Wärtsilä has already made significant progress in testing ammonia, and we are pleased to work together with them to bring this to reality," says Youngkyu Ahn, Vice President, SHI.
"Decarbonisation has become the industry's goal, and we at Wärtsilä are committed to doing everything possible to achieve this ambition. The adoption of a new generation of carbon-free fuels is central to a decarbonised future for shipping, so this JDP agreement represents an important step forward," says Östen Lindell, Sales Director, Wärtsilä Marine Power.
Latest News
(Posted on 07/12/23)
In an initiative set to be transformational for ship design while protecting the oceans from pollution... Read more
(Posted on 03/12/23)
Ship design, particularly the design of bulk carriers, presents particular challenges when it comes... Read more
(Posted on 26/11/23)
VIKING Life-Saving Equipment, a global leader in maritime safety solutions, is launching an innovative... Read more
(Posted on 26/11/23)
Damen's client Gerdes Green has received a subsidy from the German Government for the investment... Read more
(Posted on 17/11/23)
A first of its kind training course for the Middle East has been held to teach mariners about the basic... Read more
(Posted on 13/11/23)
Wärtsilä ANCS, part of technology group Wärtsilä, has delivered to Seaspan, a marine... Read more
(Posted on 31/10/23)
The flag raising ceremony for three new ASD Tugs has taken place in Gdansk, Poland. In the presence... Read more
(Posted on 26/10/23)
A new immersive crane simulator that can recreate high-risk scenarios without putting drivers or other... Read more
(Posted on 23/10/23)
Vesto Ropes, a global leader in innovative steel wire-rope solutions, has announced a strategic partnership... Read more
(Posted on 23/10/23)
Bedeschi S.p.a. has been awarded a contract for the design and supply of a new longitudinal storage... Read more