CSU ensures efficient coal supply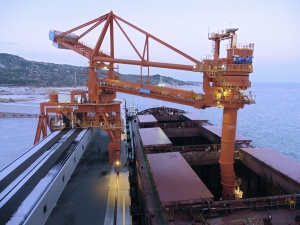 (Posted on 18/04/19)
As part of its plans to expand power supplies in the Guangzhou/Hong Kong/Shenzhen conurbation, the Chinese company New Energy Power Co. Ltd. commissioned thyssenkrupp Industrial Solutions with the construction and delivery of a continuous ship unloader (CSU) in 2015. Since the end of 2018 the ship unloader is keeping a new power plant in the Chinese city of Lufeng supplied with coal. The machine can unload 2,000 tons of coal per hour from ships with deadweight capacities of between 50,000 and 150,000 tons.
The thyssenkrupp ship unloader is characterized by eco-friendly and continuous transportation of material from the hull of the ship up to the pier conveyor. The coal, which is picked up in the horizontal section of the L-shaped bucket elevator, is transferred to the boom belt of the ship unloader via a rotating distributor on the bucket elevator head. From there the coal flows through the center of the machine on an intermediate conveyor which acts as a link to the pier conveyor. Ensuring the stability and reliability of the system was a particular focus of development work due to the in part extreme weather conditions in the region. The whole conveying route from the ship hatch through the unloader up to the pier conveyor is enclosed, meaning that there is only limited dust or material spillage, even in strong winds.
The longitudinal axis of the unloader conveyor can be moved in three dimensions. The lifting and slewing movement of the entire boom and the fact that the bucket elevator can be rotated through 360 degrees ensure that all the coal deposits can be collected from a ship hatch, even those close to the floor and sides of the hull. The operator of the unloader is supported by a computer-aided unloading (CAU) function. In an automated operation the coal is removed layer by layer down to the floor of the hull. An additional mobile device is then only needed at a later stage to collect residues. The mobile device is lifted from the pier into the hatch from an attachment point on the base of the bucket elevator and then moved to other hatches on completion of its work. The ship unloader can be operated from the cab on the boom head or remotely from the pier or ship's hatch.
Use of continuous systems for bulk material unloading is on the increase, especially in the medium- to high-output ranges. These unloader types permit the effective, dust-free and low-noise unloading of coal, ores, phosphates, sulfur, fertilizers and other bulk materials from ships. thyssenkrupp developed the continuous ship unloader back in the 80s and has since supplied more than 60 systems to customers around the world.
Latest News
(Posted on 24/03/23)
Bruks Siwertell has secured an order for a next-generation Siwertell road-mobile ship unloader, which... Read more
(Posted on 20/03/23)
Thordon Bearings is supplying its grease-free, self-lubricating ThorPlas-Blue bearing material to a... Read more
(Posted on 20/03/23)
French water treatment specialist BIO-UV Group has appointed Laurent-Emmanuel Migeon as its new Chairman... Read more
(Posted on 07/03/23)
With Wärtsilä's CII Dashboard, Anglo-Eastern is now able to make better informed decisions... Read more
(Posted on 07/03/23)
Bruks Siwertell has completed the commissioning of two large-scale Siwertell ST 790-D-type ship unloaders... Read more
(Posted on 28/02/23)
A consortium including technology group Wärtsilä has secured European Union funding to develop... Read more
(Posted on 28/02/23)
Bruks Siwertell has received an order for a next-generation Siwertell road-mobile ship unloader from... Read more
(Posted on 24/02/23)
Global Survival Technology solutions provider Survitec has introduced a new, formalised pre-inspection... Read more
(Posted on 24/02/23)
The slightest deviation in the machining, polishing, and finishing of ships' propeller blades... Read more
(Posted on 20/02/23)
Bühler expanded its business and improved profitability in an uncertain and volatile business environment... Read more