Cargotec simplifies leadership structure as orders increase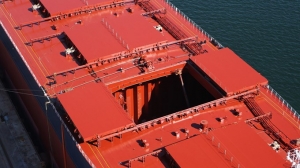 (Posted on 29/04/19)
Cargotec has simplified its leadership structure and combined its Executive Board and Extended Executive Board to form a new Cargotec Leadership Team. The Leadership Team consists of former Executive Board members Mika Vehviläinen, CEO, Mikko Puolakka, Executive Vice President, CFO, Stefan Lampa, President, Kalmar Mobile Solutions, Antti Kaunonen, President, Kalmar Automation Solutions, Scott Phillips, President, Hiab, Michel van Roozendaal, President, MacGregor, Mikael Laine, Senior Vice President, Strategy, Soili Mäkinen, CIO, Mikko Pelkonen, Senior Vice President, Human Resources, and former Extended Executive Board members Outi Aaltonen, Senior Vice President, General Counsel, and Carina Geber-Teir, Senior Vice President, Communications. The Leadership Team members report to Cargotec's CEO.
Cargotec's interim report January-March 2019 has also been released, showing orders received increased in all business areas. Cargotec's business areas Kalmar, Hiab and MacGregor are pioneers in their fields. Through their unique position in ports, at sea and on roads, they optimise global cargo flows and create sustainable customer value. Cargotec's sales in 2018 totalled approximately EUR 3.3 billion and it employs around 12,000 people. www.cargotec.com
Cargotec's MacGregor business area helps to shape the marine industries by offering world-leading engineering solutions and services with a strong portfolio of brands. Shipbuilders, owners and operators are able to optimise the lifetime profitability, safety, reliability and environmental sustainability of their operations by working in close cooperation with MacGregor.
One example is the MacGregor side-rolling hatch covers are popular for use on the weather decks of larger bulk carriers such as Panamax and Capesize vessel types. Side-rolling hatch covers stow in a transverse direction. For open hatch bulk carriers, rolling covers of the piggy-back type are preferred if the deck allows little or no free space for stowing the covers when the hatches are open.
Latest News
(Posted on 27/01/23)
Biofuels are a current and accessible fuel option that can help marine customers decarbonize. Yet while... Read more
(Posted on 27/01/23)
BIO-UV Group has reported a 31% increase in revenues from its maritime business segment, contributing... Read more
(Posted on 23/01/23)
KVH Managed Firewall and Cloud Email value-added services available to commercial fleets to enhance... Read more
(Posted on 23/01/23)
NAVTOR has been announced as the latest industry leader to join the Smart Maritime Network (SMN).The... Read more
(Posted on 16/01/23)
One Sea has welcomed intelligent navigation solutions provider, Orca AI, as the newest member of the... Read more
(Posted on 10/01/23)
Elcome International, a leading provider of maritime systems and integration solutions, is providing... Read more
(Posted on 10/01/23)
Corrosion Products & Equipment (CPE), a specialist engineering firm based in Rochester, New York... Read more
(Posted on 04/01/23)
Bruks Siwertell has secured a new Siwertell ship unloader contract from cement and ready-mix concrete... Read more
(Posted on 23/12/22)
Superior Industries, Inc., a US-based manufacturer and global supplier of bulk material processing and... Read more
(Posted on 23/12/22)
Bruks Siwertell has received an order from Hallet Capital Pty Ltd for a Siwertell ship unloader. It... Read more