Zero dust In Townsville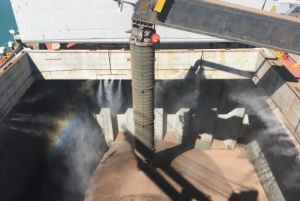 (Posted on 14/02/20)
The port of Townsville is booming with volumes metal concentrates. The Australian port is located near to sensitive residential and tourist areas so they recently turned to Blue Water Misting (BWM)to help with dust.
Townsville Logistics a division of Sun metals owns the Zinc Smelter and imports and exports zinc concentrate and Zinc Ferrite from the port.
BWM supplied a two hatch system to Townsville logistics that fits to the hatch combing and creates a fine Dry Fog over the hatch. BWM System can also fit to the Ship loader spout.
The Fog interacts with fugitive dust particles making them heavier and causing them to drop back into the hatch stopping fugitive dust.
BWM provides all types of dust suppression equipment for ports and has now supplied systems for: Buildings; Hoppers; Ship loaders; Ships hatch for Grab or Revolver.
The Port of Townsville has been the economic cornerstone of the North Queensland region since it first started trading in 1864, supporting Largest general cargo port in Northern Australia around 8,000 jobs and servicing a population of nearly 800,000 people. Imports include essential everyday goods such as fuel, furniture, electrical goods, cement and bitumen. North Queensland farmers export agricultural products, and mining company's need the Townsville port to export minerals.
Townsville is the number one exporter in Australia of copper, zinc, lead and sugar and with its close locality to Asian markets, it is ideally placed to service a growing economy. More than 20 shipping lines operate out of the Townsville Port; offering more 40 services and covering 136 ports around the world.
Latest News
(Posted on 27/09/23)
EMS-Tech Inc., a global leader in engineering and innovation within the dry bulk material handling industry... Read more
(Posted on 26/09/23)
MacGregor, part of Cargotec, has received a significant, more than EUR 25 million order for general... Read more
(Posted on 26/09/23)
HEMEXPO, Hellenic Marine Equipment Manufacturers and Exporters, a leading suppliers and exporters association... Read more
(Posted on 19/09/23)
ClassNK has conducted third-party certification for the CO2 emissions reductions of "JGreeX&trade... Read more
(Posted on 12/09/23)
Charterers can save hundreds of thousands of dollars of unnecessary demurrage costs by drilling down... Read more
(Posted on 08/09/23)
Nippon Kaiji Kyokai (ClassNK) has joined the major classification societies to amend its rules relating... Read more
(Posted on 08/09/23)
On behalf of SLPLUS Holding and based on their trust in Feyz Group's operational capabilities,... Read more
(Posted on 08/09/23)
Leading corporate wellbeing provider OneCare Solutions (OCS) has launched the OneCare Solutions Mobile... Read more
(Posted on 04/09/23)
With CCS-Ready scrubbers now being sold at pace, Wärtsilä's studies across a range of... Read more
(Posted on 04/09/23)
German Ship Repair Jamaica Limited (GSRJ), a private joint venture of German, Turkish and Jamaican investors... Read more