Shipping
(Posted on 27/03/19)
The International Chamber of Shipping (ICS) has published the latest update of its Flag State Performance Table, which can be downloaded free of charge via the ICS website. The annual update, which is also supported by the Asian Shipowners' Association (ASA) and the European Community Shipowners' Associations (...
(Posted on 27/03/19)
Indian Register of Shipping (IRClass) has secured a five-year contract from India's largest shipping company, The Shipping Corporation of India (SCI) – to undertake Emergency Response Service (ERS) for 33 vessels. The classification society's ERS is aimed at providing round-the-clock technical support by...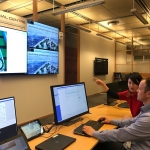 (Posted on 16/03/19)
Leading classification society DNV GL has announced that all DNV GL classed vessels are now able to utilize the possibility of remote surveys for some inspections through the Veracity data platformThe advancement means that for a range of surveys, a DNV GL surveyor will not be required to travel to the vessel. Instead, by using...
(Posted on 16/03/19)
Mr. Hiroaki Sakashita has been appointed as Senior Executive Vice President as well as Executive Director of ClassNK.Mr. Sakashita began his career at Japan's Ministry of Transport (now Ministry of Land, Infrastructure, Transport and Tourism) in 1980. During his period at the government he has played vital roles in maritime...
(Posted on 16/03/19)
ACO Marine, together with a group of leading wastewater treatment system manufacturers and environmental organisations, has called for a revision to MARPOL Annex IV in order to verify the ongoing performance and discharge criteria of sewage treated systems onboard ship.While there are rules in place for verifying discharge parameters...
(Posted on 16/03/19)
A successful collaboration between KVH Videotel, a world leader in the provision of e-learning for the maritime industry, and The Nautical Institute (NI), an international organization for maritime professionals involved in the control of sea-going ships, has resulted in more than 100 NI members enrolling in online courses to further...