Shipping
(Posted on 26/07/18)
GeelongPort in Australia has joined forces with The Mission to Seafarers Geelong to raise awareness of the impact smoking has on seafarer's health and wellbeing.Tabacco kills more than 7 million people each year. More than 6 million of those deaths are caused by direct tobacco use, while around 890,000 are the result of non...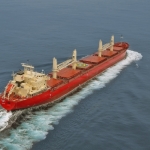 (Posted on 19/07/18)
Fednav Limited has taken ownership of a 60th bulk carrier, an important milestone in the comany's history. This vessel, the MV Federal Dee, is the latest in a series of 22 box-hold handysize bulk carriers of 34,500 deadweight tons ordered from Oshima Shipyard of Japan since 2013.As the world's largest operator of ice...
(Posted on 19/07/18)
Leading Classification Society ClassNK granted an Approval in Principle (AIP) based on its Rule Part GF which adopts IGF Code (regulation for ships using low-flashpoint fuels) to NYK Line and Japan Marine United (JMU) for their joint project on the concept design of an LNG-fueled 200K DWT bulk carrier.The design is based on a 200K...
(Posted on 19/07/18)
July 2018 is a significant milestone in the history of the Thome Group because it was 55 years ago this month that the company was first incorporated in Singapore.The expansion of the business from its humble beginnings as an agent, broker and charterer to mainly Norwegian ship owners, to an internationally respected third-party...
(Posted on 19/07/18)
An EC-funded programme is to improve sustainability in shipbuilding and maintain Europe's leading role in complex vessel constructionDamen Shipyards Gorinchem, in close cooperation with Netherlands Maritime Technology (NMT), is to coordinate the NAVAIS programme. The programme kicked off on June 1st, with the Innovation &amp...
(Posted on 19/07/18)
Norsafe Academy Hellas is pleased to announce that it has entered into a cooperative agreement with DNV GL the leading Classification Society, regarding the training of its surveyors. "Safety Training for Experienced Surveyors" is a specialised practical course, which has been customized to comply with DNV GL'...