Shipping
(Posted on 20/09/18)
On 20th August 2018, the first LNG dual-fueled handysize bulk carrier in the world –M/V Haaga was delivered to her Finnish shipowner ESL Shipping from Jinling Shipyard in Nanjing, China. The Finnish hybrid solutions company WE Tech equips its innovative solutions in M/V Haaga to reduce environmental footprint by minimizing...
(Posted on 20/09/18)
To assist shipping companies prepare for implementation of the UN IMO global sulphur cap for ships' fuel oil, the International Chamber of Shipping (ICS) has produced – free of charge – some comprehensive guidance on implementation planning, to help ensure compliance across the shipping industry with this regulatory...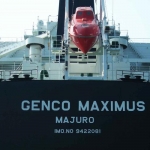 (Posted on 14/09/18)
Genco Shipping & Trading Limited has announced that it has taken delivery of the Genco Defender and the Genco Liberty, two 2016-built 180,000 dwt Capesize vessels, as well as the Genco Columbia, a 2016-built 60,000 dwt Ultramax vessel in September 2018. These deliveries complete the two vessel acquisitions that Genco announced...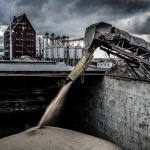 (Posted on 14/09/18)
On a recent visit to the Gdynia head office of Morska Agencja Gdynia (MAG), Vice President, Krzysztof Laskowski told IBJ, "We are currently undergoing a restructuring of the business because of the dynamic market we operate in. The company has to balance risks against margins in the various sectors we operate in as some activities...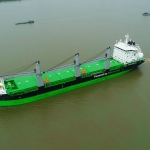 (Posted on 11/09/18)
Viikki, the world's most eco-friendly bulk carrier, has been delivered to Aspo Group's ESL Shipping from the Jinling shipyard in Nanjing, China. Viikki's sister ship Haaga was delivered on August 20. The 160-meter, LNG-fueled vessel of 25,600 dwt emits over 50 percent less carbon dioxide than the previous generation of vessels."...
(Posted on 11/09/18)
At the United Nations in New York, the International Chamber of Shipping (ICS) is representing shipowners at the start of a major negotiation to agree a new legal instrument for the protection of the ocean under the UN Convention on the Law of the Sea (UNCLOS) – which will apply to 'high seas' areas 'beyond...