Shipping
(Posted on 31/05/18)
"During the first quarter of 2018, additional bulk carriers were taken on long-term time-charter in anticipation of further dry cargo market improvements", says Lauritzen CEO Mads P. Zacho, adding that "earnings for our gas carriers were as expected".Since 1884, J. Lauritzen has been one of the leaders in...
(Posted on 31/05/18)
Diana Shipping Inc., a global shipping company specialising in the ownership of dry bulk vessels, has announced that, through a separate wholly-owned subsidiary, it has entered into a time charter contract with Koch Shipping Pte. Ltd., Singapore, for one of its Capesize dry bulk vessels, the m/v P. S. Palios. The gross charter rate...
(Posted on 31/05/18)
ESL Shipping, Bore and Finnlines jointly invest in the development of occupational safety training. The development programme is supported by the insurance company Alandia, who support projects aiming to improve occupational safety.The target is to create an occupational health and safety training package consisting a familiarization...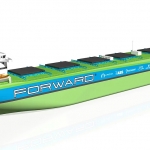 (Posted on 24/05/18)
Eniram, a Wärtsilä company, has signed a Memorandum of Understanding with Athens-based Arista Shipping to participate in the Project Forward initiative, which is led by Arista. The project has developed a dry bulk carrier vessel that features an unprecedented high level of energy efficiency. The carrier's design...
(Posted on 24/05/18)
The International Maritime Organization's (IMO) Maritime Safety Committee (MSC) has formally approved Inmarsat's 'Fleet Safety' solution as a new service to support the Global Maritime Distress & Safety System (GMDSS).Ship owners and operators will now be able to combine maritime safety and broadband...
(Posted on 24/05/18)
The International Chamber of Shipping (ICS) fears 'chaos and confusion' unless the UN International Maritime Organization (IMO) urgently resolves some serious issues concerning the successful implementation of the 0.5 percent sulphur in marine fuel cap, which is scheduled to come into effect globally overnight on 1 January...