Shipping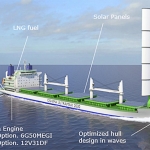 (Posted on 17/06/19)
Spurred by the IMO strategy to reduce greenhouse gas (GHG) emissions, Oshima Shipbuilding and classification society DNV GL have signed a long-term strategic cooperation to conduct research and development together on new bulk carrier designs. The first design to result from the cooperation, the "Oshima Ultramax 2030&rdquo...
(Posted on 17/06/19)
The Board of the International Chamber of Shipping (ICS) has expressed concern at the serious incidents involving the Marshall Islands flagged ship Front Altair and the Panama flagged Kokuka Courageous, in the Gulf of Oman. Addressing the issue at the ICS Annual General Meeting in the Faroe Islands, the Board has expressed the international...
(Posted on 17/06/19)
In order to reduce atmospheric pollution caused by sulphur oxides (SOx) and particle matter (PM) found in vessel emissions as well as weather effects caused by GHG emissions, environmental regulations have been getting more strongly enforced. In theory, ships using alternative fuels such as LNG, LPG, and methyl/ethyl alcohol can...
(Posted on 17/06/19)
Palau International Ship Registry (PISR) has been recognised by the International Maritime Organisation (IMO) as to fully comply with the International Convention on Standards of Training, Certification and Watchkeeping for Seafarers (STCW).At the IMO headquarters in London (June 10) Secretary-General Kitack Lim's proposal...
(Posted on 17/06/19)
Leading marine operations software company Helm Operations has announced that it has surpassed the 4000 vessel mark on its industry-leading maritime asset management and operations platform, Helm CONNECT. Since launching Helm CONNECT in July 2016, more than 1000 vessels have joined the platform each year, with the 4000 vessel mark...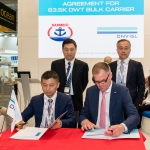 (Posted on 10/06/19)
As part of the strategic cooperation agreement signed between SUMEC Marine Company Ltd. and DNV GL last year, SUMEC's New Dayang Shipbuilding Co., Ltd. and DNV GL have agreed on a Joint Development Project (JDP) to update the Crown 63.5k Bulk Carrier design. The agreement was signed at the Nor-Shipping trade fair in Oslo.The...