Strategic maritime e-learning partnership formed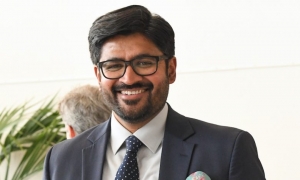 (Posted on 30/06/20)
V.GROUP, the leading global provider of ship management and marine support services, and Ocean Technologies Group, the leading provider of maritime learning and operational technologies, have entered a strategic partnership to offer best-in-class e-learning to V.Group personnel and customers.
Starting later this year, V.Group will leverage on Ocean Technologies Group's digital platforms to provide innovative and industry leading integrated e-learning solutions to V.Group's customers. The new solutions will include bespoke V.Group content, cutting-edge technologies in micro-learning, adaptive and gamified learning and virtual reality training developed by Ocean Technologies Group.
As part of the landmark cooperative agreement, the Marlins Maritime English assessment product and Marlins global 'Approved Test Centre' scheme will be transferred to Ocean Technologies Group and become part of its growing list of offerings.
V.Group's CEO, Graham Westgarth, explains: "This is a symbiotic partnership. Ocean Technologies Group has brands that are recognised the world over as the best-in-class for maritime e-learning, while Marlins has an equally impressive reputation for English language testing.
"This deal highlights the importance of strategic partnerships. Our customers will benefit from the many and varied specialist product lines and services that Ocean Technologies Group companies provide whilst retaining the personalised approach that our customers expect from V.Group.
"The Covid-19 crisis serves to highlight the maritime industry's increasing reliance on digital platforms. It's clear that distance learning will become increasingly important to companies and individuals who need to meet legislative and industry requirements. E-learning is reliable and provides continuity because it is protected from the negative impact of global events.
"Above all else, this initiative will meet our key priority of delivering an added value service to our customers."
Manish Singh, CEO of Ocean Technologies Group, added: "Blue-chip ship owners, operators and managers recognise that the fast-changing operating environment requires each stakeholder to focus on their core competencies. Our customers realise that strategic partnerships with Ocean Technologies Group based on core strengths and expertise deliver economies of scale and offer best solutions to their crew and customers.
"This partnership enables V.Group to deliver the most effective 'through-career learning support' for their personnel and provide a greater customer service globally. Their customers will enjoy a seamless transition to a more comprehensive offering.
"Ocean Technologies Group serves over a million seafarers and is investing as much as $30 million in developing the future-ready learning solutions that our customers will rely on. This is in sharper focus than ever after the significant Covid disruption reshaped the way seafarers are trained.
"This new global partnership provides a great opportunity for V.Group personnel and customers to stay ahead of the curve in a rapidly changing sector.
Latest News
(Posted on 07/12/23)
ClassNK has issued Approvals in Principle (AiPs) for four cutting-edge ship designs developed by Marine... Read more
(Posted on 07/12/23)
A smartship partnership bringing together ship management company Laskaridis Shipping, digital technology... Read more
(Posted on 07/12/23)
ABB has launched a new digital tool allowing shipowners, operators and designers to estimate the emission... Read more
(Posted on 03/12/23)
The Dry Bulk and LNG segments have borne the brunt of restricted transits, particularly due to their... Read more
(Posted on 03/12/23)
Columbia Shipmanagement (CSM) is set to further boost operational efficiency on its vessels, as crew... Read more
(Posted on 26/11/23)
Shi.E.L.D. Services has selected Spinergie as its preferred digitized solution provider to monitor and... Read more
(Posted on 26/11/23)
Thousands of cadets and trainees in India will benefit from in-depth wellness training and support thanks... Read more
(Posted on 17/11/23)
As shipping continues its journey to decarbonisation, INTERCARGO will host a special forum in Athens... Read more
(Posted on 13/11/23)
INTERCARGO was deeply saddened and concerned to hear of the reported appalling missile attack on the... Read more
(Posted on 13/11/23)
A new-look Wellness at Sea Awareness Campaign for seafarers, their families and shore staff that &ldquo... Read more