Shipping
(Posted on 28/08/18)
The Swedish Club has reported a combined ratio of 96 % for the first six months of 2018, in line with a policy of balanced growth and consistent performance. The Club is pleased to have now delivered an average combined ratio of below 100 % for ten years, despite a continued soft market for marine pricing and the third consecutive...
(Posted on 28/08/18)
Albwardy Damen, a joint venture providing shipbuilding and ship repair services to the marine and oil and gas related industries in the Middle East, has announced that it has launched a full range of afloat, workshop, and diving services at SOHAR Port and Freezone. Albwardy Damen is a joint venture between Albwardy Investment, Dubai...
(Posted on 28/08/18)
Veritas Petroleum Services (VPS) and Seagull Maritime have collaborated on new e-learning modules and reflective learning films describing the importance and procedures for fuel testing. Unpredictable fuel quality is a regular cause for concern among ship operators. Apart from creating operational problems, fuels of unknown quality...
(Posted on 28/08/18)
"During the second quarter of 2018, we continued to build our activity in the dry cargo period market by replacing expensive time-chartered tonnage with attractively priced vessels improving our competitive position. We remain optimistic in terms of further dry cargo market improvements despite uncertainties related to tariffs...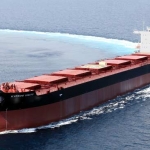 (Posted on 16/08/18)
Safe Bulkers, Inc., an international provider of marine dry-bulk transportation services, has announced that it has acquired a 181,000 dwt, Japanese, 2009-built, dry-bulk, Capesize class vessel at an attractive price. The acquisition was financed from cash on hand.Following a dry docking the vessel is expected to be employed in...
(Posted on 16/08/18)
The China Navigation Company (CNCo), has celebrated the official opening of its new branch office this month in Vancouver, British Columbia, Canada.The opening ceremony was attended by The Honourable, Bruce Ralston, Minister of Jobs, Trade & Technology, British Columbia, who unveiled a plaque in the CNCo office located at W...