Shipping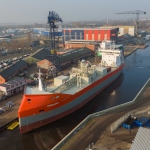 (Posted on 09/05/18)
SMT Shipping ("SMT") and The CSL Group ("CSL") have announced they have entered into an agreement for CSL to acquire 50% of Eureka Shipping Ltd. ("Eureka"), SMT's pneumatic cement vessel business.The new joint venture will allow Eureka and CSL to combine expertise, resources and innovative...
(Posted on 09/05/18)
Bulk carrier owners are warned to pay extra attention to the basics in a new report issued by The Swedish Club. The Club has found that for bulk carrier operators, wet damage is the most costly claim type and the second most common claim that they experience. The report, Wet Damage on Bulk Carriers, which has been prepared...
(Posted on 09/05/18)
Alfa Laval has signed fleet agreements with Polsteam and Nova Ship Tech SA for the supply of PureBallast 3, the third generation of Alfa Laval's ballast water treatment technology. Under the agreements, Alfa Laval will provide dozens of Polsteam and Nova Ship Tech SA vessels with PureBallast 3 systems – the vast majority...
(Posted on 09/05/18)
One of the challenges that navigating officers' face is a large number of ECDIS systems found on vessels, all with different user interfaces. However, on boarding vessels officers need to be able to competently use the ECDIS, as it could be their main source of navigation. In order to assist the shipping industry, Seagull...
(Posted on 09/05/18)
I-Tech AB, the company behind the development of the unique antifouling ingredient Selektope®, has applied for admission to trade the company's shares on the Nasdaq First North Stockholm exchange.The first day of trading of the I-Tech AB (publ) company on Nasdaq First North is estimated to be 28 May 2018. The listing is...
(Posted on 09/05/18)
The industry must limit plastic pollution from grey water waste streams with the same regulatory control it has in place for sewage, says ACO MarineGrey water, that is to say domestic waste other than sewage, is largely unregulated. Yet it can form the larger percentage of water discharged overboard by ships. On the other hand,...