Shipping
(Posted on 03/10/19)
Britannia P&I's Managers, Tindall Riley, has added four new colleagues to their Singapore team. This expansion reinforces Britannia's strategy of developing its regional hubs, bringing service closer to Members. TR(B) Singapore was established in September 2018 (taking over from the former exclusive correspondent of almost...
(Posted on 03/10/19)
Saeed Al Malik, President of the International Shipsuppliers & Services Association (ISSA), has been invited to join the Board of Trustees of the Emirates Maritime Arbitration Centre, EMAC.It follows the issuing of a decree by His Highness Sheikh Mohammed bin Rashid Al Maktoum, Vice President, Prime Minister and Ruler of Dubai...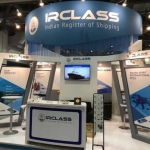 (Posted on 27/09/19)
Leading Classification Society the Indian Register of Shipping (IRClass), has opened an office in Doha at the Qatar Financial Centre (QFC).Commemorating the office opening, a function was held at the Sheraton Grand Doha Resort and Convention Hotel which was attended by a large number of senior delegates from Indian Embassy, Qatar...
(Posted on 27/09/19)
The Swedish Club is delighted to report that S&P Global Ratings has affirmed its 'A-' long-term insurer financial strength and issuer credit ratings on The Swedish Club.The ratings agency commented on The Swedish Club's sturdy operating performance, driven by disciplined underwriting and strong risk controls and a solid...
(Posted on 27/09/19)
In September 2018, Leading Classification Society ClassNK analysed the retrofitting status of ballast water management systems (BWMS) on its registered ships and confirmed that installation deadlines based on the Ballast Water Management Convention (BWM Convention) for many of them are highly concentrated in the year 2022.The status...
(Posted on 27/09/19)
Maritime professionals must all play a part in challenging stereotypes and changing mindsets in order to create gender equality across the global shipping industry, Rear Admiral (ret'd) Peter Brady, Director General of the Maritime Authority of Jamaica has urged.Speaking in Kingston today, on World Maritime Day, which takes...