Shipping
(Posted on 08/06/18)
Bernhard Schulte Shipmanagement and Columbia Shipmanagement have combined their global buying power to create an independent procurement company to deliver greater value in ship supply costs for shipowners. The move guarantees principals lower costs in the procurement of a wide range of consumables while guaranteeing product quality...
(Posted on 08/06/18)
The Republic of the Marshall Islands (RMI) has submitted a paper to the International Maritime Organization (IMO) Intersessional Working Group (ISWG) on the consistent implementation of the 2020 global fuel oil sulphur standard under MARPOL Annex VI.The submission, which was co-sponsored by the Republic of Liberia, the Baltic and...
(Posted on 08/06/18)
"Posidonia could not have come at a better time for us," said Andrew Marshall, Coldharbour Marine Chief Executive, a few days before Posidonia opened its doors to the global shipping community in Athens. "We are in the final stages of a successful ballast water treatment installation for one of our key Greek clients...
(Posted on 08/06/18)
International law firm Hill Dickinson has bolstered its marine and corporate capabilities with the appointments of finance and corporate partner Jasel Chauhan, senior associate Anthony Paizes and legal assistant Foteini Sfyndili to its Piraeus office.Jasel joins from HFW where he headed the ship finance and corporate practice in...
(Posted on 08/06/18)
Hempel, the leading global coatings manufacturer, has applied Hempaguard, its award-winning fouling defence coating, to more than 1000 ships. The one thousandth full-vessel coating was achieved in April.The unrivalled fuel-saving properties of Hempaguard means that, collectively, the owners of these 1000 vessels have reduced their...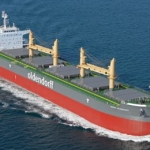 (Posted on 31/05/18)
The Sustainable Shipping Initiative (SSI), a pioneering coalition of companies from across the global shipping industry, have announced that the dry bulk shipowner and operator Oldendorff Carriers has become a member.Oldendorff joins other SSI members, including ABN-Amro, AkzoNobel, Bunge, China Navigation, IMC Shipping, Lloyd&rsquo...