ABB software for Ming Wah bulkers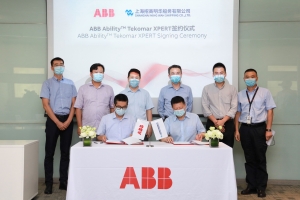 (Posted on 21/09/20)
ABB is to install its state-of-the-art engine diagnostics software ABB Ability Tekomar XPERT on 12 bulk carriers operated by Shanghai Ming Wah Shipping Co (Shang Ming Wah).
The fleetwide deployment follows a trial on two ships which started in February 2019 and an initial order covering four vessels in June 2019. The order for the remaining eight vessels was received in July this year.
Under the initial order, ABB Ability Tekomar XPERT helped Shang Ming Wah save 0.62 tons of fuel per day on each of the four ships. One vessel, with a MAN B&W 6S42MC main engine, recorded a fuel saving of 4.3g/kWh, highlighting the significant fuel consumption advantages the software can bring to high-powered engines in particular. The lower fuel use will lead to a dramatic improvement in environmental performance, reducing fleetwide CO2 emissions by an anticipated 5,800 tons a year.
Chen Qiuhua, General Manager, Shanghai Ming Wah Ship Management Center, said: "With changing market conditions, Shanghai Ming Wah is embracing digital technologies while improving management efficiency, which will enable us to retain our full strength and market competitiveness. ABB is our trusted partner and the Tekomar XPERT digital solution helps our fleet optimize operations while creating a better experience for our customers."
Tekomar XPERT analyses turbocharger and engine performance to provide pre-emptive warnings and recommendations which can prevent engine failures. In one notable example, Tekomar XPERT helped Shanghai Ming Wah detect high cylinder pressure in one engine. High pressures increase the mechanical load on cylinder components and can lead to operational hazards.
Xu Gang, Head of Services for ABB Turbocharging in China, said: "In an increasingly digital world, we continue to seek technological innovations to provide customers with more advanced solutions such as Tekomar XPERT. ABB Turbocharging and Shanghai Ming Wah have established a good foundation through many years of cooperation, and this agreement has further strengthened our collaboration."
Tekomar XPERT empowers ship owners and operators with key engine indicators provided via intuitive dashboards, allowing them to monitor, optimize and benchmark engine performance while preventing engine problems. It runs on any engine, regardless of type or age and is built on ABB's Ability™ platform with the highest standards of cyber security.
Shanghai Ming Wah Shipping Co. Ltd. is a professional operation platform established in Shanghai by China Merchants Group to engage in general cargo ships, five-star flag ships and innovative shipping businesses. The company integrates shipowners, ship operators and ship managers, and integrates operation and management. It is the second largest carrier in China in terms of cargo and special transportation. Ming Wah owns and controls a mixed fleet of nearly approximately 50 vessels of complete types, including MPVs, heavy lift vessels, log ships, bulk carriers, and chemical tanker with a total carrying capacity 2 million DWT. The fleet has advanced environmental protection technology, reasonable tonnage configuration, complete ship types, and average ship age only four years. The main ship types include the 82,000-tonne Kamsamax bulk carrier, the 58,000-tonne handy-size fleet, the 32,500-tonne log fleet, the 13,000-tonne multi-purpose heavy lift fleet, and the 6000-tonne chemical fleet.
ABB Turbocharging is at the helm of the global industry in the manufacture and maintenance of turbochargers for 500 kW to 80+ MW diesel and gas engines. ABB is a leading global engineering company that energizes the transformation of society and industry to achieve a more productive, sustainable future.
Latest News
(Posted on 27/01/23)
ClassNK has issued an Approval in Principle (AiP) for a large ammonia fuelled 210,000 DWT bulk carrier... Read more
(Posted on 27/01/23)
Investors in middle aged dry bulk tonnage may be cheered by the impact of sustained higher recycled... Read more
(Posted on 27/01/23)
As one of the most important strategic maritime passages in the world, linking the Indian and Pacific... Read more
(Posted on 23/01/23)
OSM Maritime Group and Thome Group have agreed to a merger of the two companies. By joining forces,... Read more
(Posted on 23/01/23)
In a pivotal move aimed at further strengthening The Swedish Club's long-term position in the... Read more
(Posted on 16/01/23)
International crewing expert Danica Crewing Specialists now has a presence in Mumbai, boosting its recruitment... Read more
(Posted on 10/01/23)
Bahamas-based ship-management group Campbell Shipping has extended its relationship with Inmarsat, a... Read more
(Posted on 10/01/23)
AAL's scheduled monthly 'Asia to Australia West Coast Liner Service' (AUWC) recently... Read more
(Posted on 10/01/23)
Tindall Riley & Co Ltd./ the Managers of Britannia P&I announce that on 5 January 2023 it acquired... Read more
(Posted on 04/01/23)
The Swedish Club has welcomed in the New Year, when it formally greeted its incoming Managing Director... Read more