Shipping
(Posted on 17/06/19)
Palau International Ship Registry (PISR) has been recognised by the International Maritime Organisation (IMO) as to fully comply with the International Convention on Standards of Training, Certification and Watchkeeping for Seafarers (STCW).At the IMO headquarters in London (June 10) Secretary-General Kitack Lim's proposal...
(Posted on 17/06/19)
Leading marine operations software company Helm Operations has announced that it has surpassed the 4000 vessel mark on its industry-leading maritime asset management and operations platform, Helm CONNECT. Since launching Helm CONNECT in July 2016, more than 1000 vessels have joined the platform each year, with the 4000 vessel mark...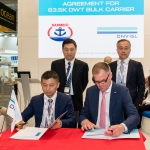 (Posted on 10/06/19)
As part of the strategic cooperation agreement signed between SUMEC Marine Company Ltd. and DNV GL last year, SUMEC's New Dayang Shipbuilding Co., Ltd. and DNV GL have agreed on a Joint Development Project (JDP) to update the Crown 63.5k Bulk Carrier design. The agreement was signed at the Nor-Shipping trade fair in Oslo.The...
(Posted on 10/06/19)
Classification society DNV GL has released an updated version of its bulk cargo liquefaction guideline at the Nor-Shipping trade fair. The guideline covers both the design and operation of vessels with bulk cargoes that may liquefy, and has already contributed to raise the awareness of the risks of cargo liquefaction on ships.The...
(Posted on 10/06/19)
In advance of its AGM in the Faroe Islands, the global trade association for shipowners, the International Chamber of Shipping (ICS), has launched its Annual Review 2019, providing in-depth insight into the most pressing issues confronting shipping, which moves about 90% of global trade.ICS Chairman, Esben Poulsson, explains: &ldquo...
(Posted on 10/06/19)
Leading Classification Society ClassNK has released its Guidelines for Software Security which target software developers, system integrators, and more.As part of the ClassNK Cyber Security Series, ClassNK regularly releases guidelines and standards that outline cyber security measures based on the recently-released ClassNK Cyber...