Shipping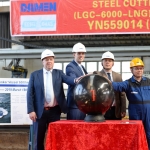 (Posted on 27/03/19)
A ceremony has been held at Damen Yichang Shipyard, China, to mark the start of cutting steel for the first of a planned series of short-sea LNG Bunker vessels to be built for Eesti Gaas of Estonia. The 6,000m³ capacity vessel and its future sister-ships are intended to accelerate the wider adoption of LNG as a cleaner alternative...
(Posted on 27/03/19)
The world's fastest growing ship registry and the oldest shortsea shipping association in Europe have joined forces to support the growing number of Greek vessels operating in the short-sea maritime sector.Palau International Ship Registry (PISR) and the Hellenic Shortsea Shipowners Association (HSSA) both operate from Piraeus...
(Posted on 27/03/19)
The International Chamber of Shipping (ICS) has published the latest update of its Flag State Performance Table, which can be downloaded free of charge via the ICS website. The annual update, which is also supported by the Asian Shipowners' Association (ASA) and the European Community Shipowners' Associations (...
(Posted on 27/03/19)
Indian Register of Shipping (IRClass) has secured a five-year contract from India's largest shipping company, The Shipping Corporation of India (SCI) – to undertake Emergency Response Service (ERS) for 33 vessels. The classification society's ERS is aimed at providing round-the-clock technical support by...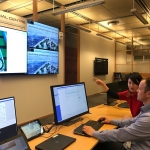 (Posted on 16/03/19)
Leading classification society DNV GL has announced that all DNV GL classed vessels are now able to utilize the possibility of remote surveys for some inspections through the Veracity data platformThe advancement means that for a range of surveys, a DNV GL surveyor will not be required to travel to the vessel. Instead, by using...
(Posted on 16/03/19)
Mr. Hiroaki Sakashita has been appointed as Senior Executive Vice President as well as Executive Director of ClassNK.Mr. Sakashita began his career at Japan's Ministry of Transport (now Ministry of Land, Infrastructure, Transport and Tourism) in 1980. During his period at the government he has played vital roles in maritime...