Four new ultramax bulkers for Norden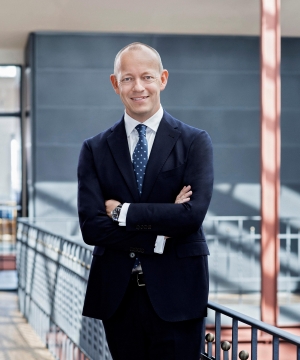 (Posted on 01/07/20)
Following the sale of 10 ships since 2018, Dampskibsselskabet Norden has entered into a newbuilding contract with Nantong Cosco Khi Ship Engineering Co. ("NACKS") for 4 x 61,000 dwt dry cargo Ultramax ships, expected to deliver during 2022.
In an interview with IBJ earlier this year, Norden Chief Executive Officer Jan Rindbo revealed the company's business philosophy of being nimble and flexible. He noted that the newbuilding contract is in line with the company's strategy of agile asset trading and active management of NORDEN's cyclical market exposure.
"Having sold 10 dry cargo vessels since 2018, we believe asset prices have now declined sufficiently to present a good trading opportunity to buy," said Jan Rindbo.
The newbuildings will join the core fleet of Norden owned and long-term leased tanker and dry cargo vessels managed by the Asset Management business unit.
"With a demand outlook gradually returning to normal and a low orderbook, we believe it's a good time to buy assets and secure competitively priced tonnage" says Henrik Lykkegaard Madsen, Head of Asset Management. "Furthermore, the contracted vessels have been secured with the aim of trading the portfolio of bulk carriers within the prevailing market volatility to optimise our returns".
Norden, which operates in dry cargo and product tankers worldwide, celebrates its 150th anniversary next year.
Latest News
(Posted on 03/12/23)
The Dry Bulk and LNG segments have borne the brunt of restricted transits, particularly due to their... Read more
(Posted on 03/12/23)
Columbia Shipmanagement (CSM) is set to further boost operational efficiency on its vessels, as crew... Read more
(Posted on 26/11/23)
Shi.E.L.D. Services has selected Spinergie as its preferred digitized solution provider to monitor and... Read more
(Posted on 26/11/23)
Thousands of cadets and trainees in India will benefit from in-depth wellness training and support thanks... Read more
(Posted on 17/11/23)
As shipping continues its journey to decarbonisation, INTERCARGO will host a special forum in Athens... Read more
(Posted on 13/11/23)
INTERCARGO was deeply saddened and concerned to hear of the reported appalling missile attack on the... Read more
(Posted on 13/11/23)
A new-look Wellness at Sea Awareness Campaign for seafarers, their families and shore staff that &ldquo... Read more
(Posted on 05/11/23)
Classification society DNV has entered into a Joint Development Project (JDP) with AL Group and its... Read more
(Posted on 31/10/23)
Samsung Heavy Industries (SHI) and leading classification society DNV have inked a Memorandum of Understanding... Read more
(Posted on 31/10/23)
WISTA International, during its Annual General Meeting (AGM) held in Montevideo, Uruguay, on 25 October... Read more