Shipping
(Posted on 18/04/19)
Indian Register of Shipping (IRClass), continues to grow steadily in the Asia Pacific region – enhancing presence in key Asian shipping markets including Malaysia, Indonesia and China.The classification society had earlier received authorisation as Recognised Organisation (RO) from the flag administrations of Malaysia and...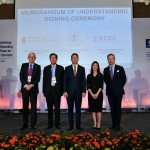 (Posted on 08/04/19)
Yesterday in Singapore, the International Chamber of Shipping (ICS), the Asian Shipowners' Association (ASA) and the European Community Shipowners' Associations (ECSA) signed a joint memorandum of understanding. This new MOU codifies the extensive level of co-operation that already exists between these important international...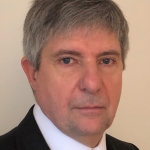 (Posted on 08/04/19)
UK-based Coldharbour Marine, the manufacturer of an in-tank ballast water treatment systems (BWTS) based on unique inert gas technology, has announced the appointment of Don Stephen as Chief Executive Officer. With over 30 years blue chip industry experience, Don's career spans technical and leadership roles at De Nora Water Technology...
(Posted on 08/04/19)
Leading classification society ClassNK has developed "Guidance for onboard use of Compliant Fuel Oil with SOx regulation from 2020" and an implementation plan sample for switching to compliant fuel oil in order to support the industry in complying with the sulphur cap which will be enforced starting on 1 January 2020...
(Posted on 08/04/19)
Hamburg Süd and CNCo have received regulatory approval and completed the transfer of RAO and the bulk activities in Furness Withy and Aliança Navegação e Logística to CNCo.Hamburg/Singapore, April 1, 2019. Hamburg Süd and The China Navigation Company (CNCo), a subsidiary of the Swire Group,...
(Posted on 08/04/19)
Speaking in Istanbul, Simon Bennett, Deputy Secretary General of the International Chamber of Shipping (ICS) has warned that avoiding overcapacity and unsustainably low freight rates is still a major challenge ten years after the massive downturn of 2008.Mr Bennett said: "In that time shipping companies needed to show restraint...